SAXBYS RECOGNIZED AS ONE OF THE 50 MOST COMMUNITY-MINDED EMPLOYERS IN THE GREATER PHILADELPHIA REGION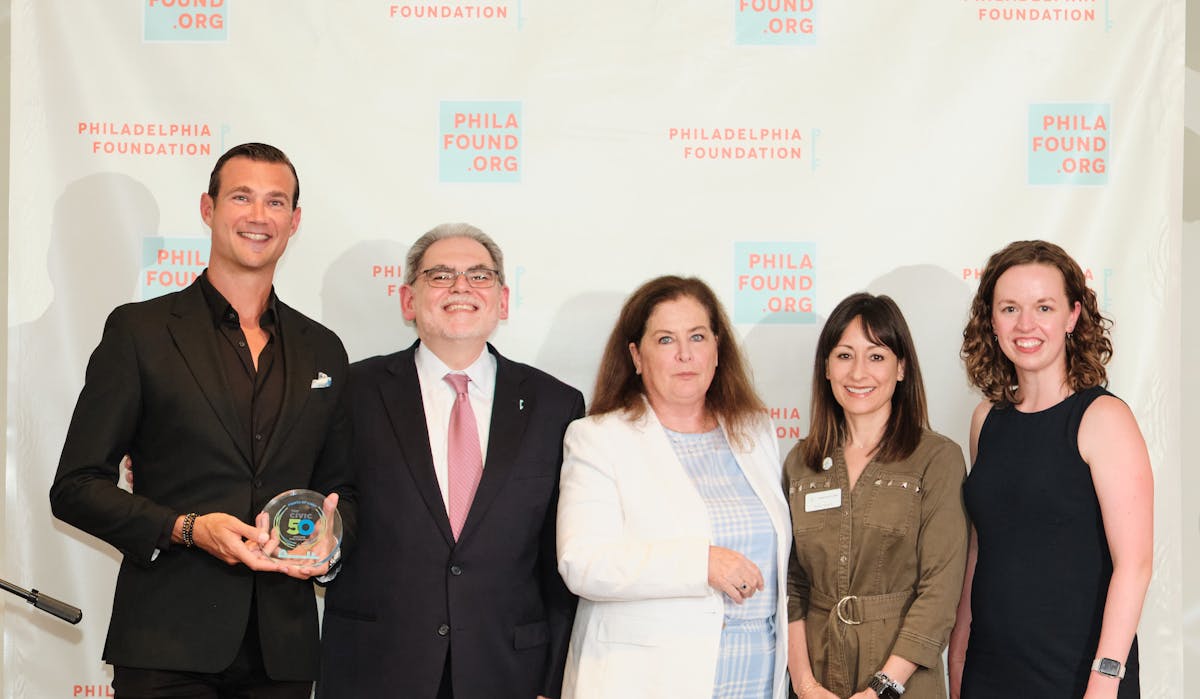 Saxbys has been named a 2023 honoree of The Civic 50 Greater Philadelphia by Philadelphia Foundation, in partnership with Points of Light and local partners. Modeled after Points of Light's national program, The Civic 50 Greater Philadelphia provides a standard for corporate citizenship and showcases how employers use their time, skills and resources to drive social impact in their communities and company.
For Saxbys, the honor encapsulates the company's evolution from a local coffee company to a national education company, empowering the next generation of leaders and entrepreneurs across college campuses in the Greater Philadelphia Region and beyond.
"In 2015, Saxbys partnered with Drexel University to open a cafe exclusively designed for and run by students who earn full credit, full wages, and have full responsibility for the business' profit and loss statement. That first-of-its-kind cafe grew into Saxbys' Experiential Learning Platform, a growing network of cafes across five states, each helmed by a team of student leaders," said Nick Bayer, Founder & CEO of Saxbys. "Nearly a decade later, we've given hundreds of students the opportunity to take what they've learned in the classroom and apply it in a real, consequence-rich business environment, and we're just getting started," said Bayer.
The Civic 50 Greater Philadelphia honorees are private and public companies and other employers operating in the Philadelphia region. They have been selected based on four dimensions of their community engagement program:
Investment of resources

Integration across business functions

Institutionalization through policies and system

Impact measurement
Among the Greater Philadelphia companies who completed the Civic 50 application, Saxbys earned the region's top score for Integration. The Integration dimension measures how a company "does well by doing good" through engagement programs that support both the profitability of the business and the wellbeing of the communities it serves.
"Everything we do at Saxbys is driven by a singular mission: Make Life Better. Every aspect of our business—how we source our coffee, design and package menu items, treat our guests, collaborate with our higher education partners, develop our team, and mentor our students—is grounded in an authentic commitment to uplift the communities we serve," Bayer said. "Social impact and civic engagement are not side projects at Saxbys, but at the very core of our business model."
Since 2011, The Civic 50 has provided a national standard for superior corporate citizenship and has showcased how companies use their time, skills, and other resources to drive social impact in their business and community.
"Philadelphia Foundation is proud to recognize Saxbys' outstanding civic engagement," said Pedro Ramos, President and Chief Executive Officer of Philadelphia Foundation. "All of the 2023 honorees have demonstrated great passion and dedication to making a meaningful impact in the local communities they serve. It is this type of commitment that resonates throughout a region and sets the standard for corporate stewardship. We thank Saxbys for their efforts and congratulate them on this exciting honor."
Also in keeping with Philadelphia Foundation's role in advancing civic initiatives through partnerships and collaboration, it serves as home to the Greater Philadelphia Corporate Volunteer Council, as well as the Key Skills Hub – a marketplace that matches community nonprofits with skills-based volunteers, free of charge.
The Civic 50 Greater Philadelphia honorees were officially recognized on Thursday, June 22nd, at a celebratory event at the FS Investment Corporate Headquarters located in Philadelphia, PA.
The Civic 50 Greater Philadelphia assessment is administered by True Impact, a company specializing in helping organizations maximize and measure their social and business value and consists of quantitative and multiple-choice questions that inform the scoring process.

To learn more about The Civic 50 Greater Philadelphia and honorees, please visit philafound.org/civic-50.