Main content starts here, tab to start navigating
Now Hiring Student Team Members for All E.L.P.® Cafes! Learn more & apply here.
WE HAND YOU THE KEY, YOU UNLOCK YOUR POTENTIAL.
"I have yet to come across another program that even comes close to offering such an authentic and developmental experience. Simply put, the Saxbys Student Cafe Executive Officer (SCEO)® experience is THE leadership experience for a college student interested in learning what running a business is like. You get the full, 360-degree view of what it is like to run a cafe and you get to own that cafe in front of your whole college community."
- Rainier Foley-DeFiore, Penn State University, Spring 2019 SCEO, New Market Leader, Saxbys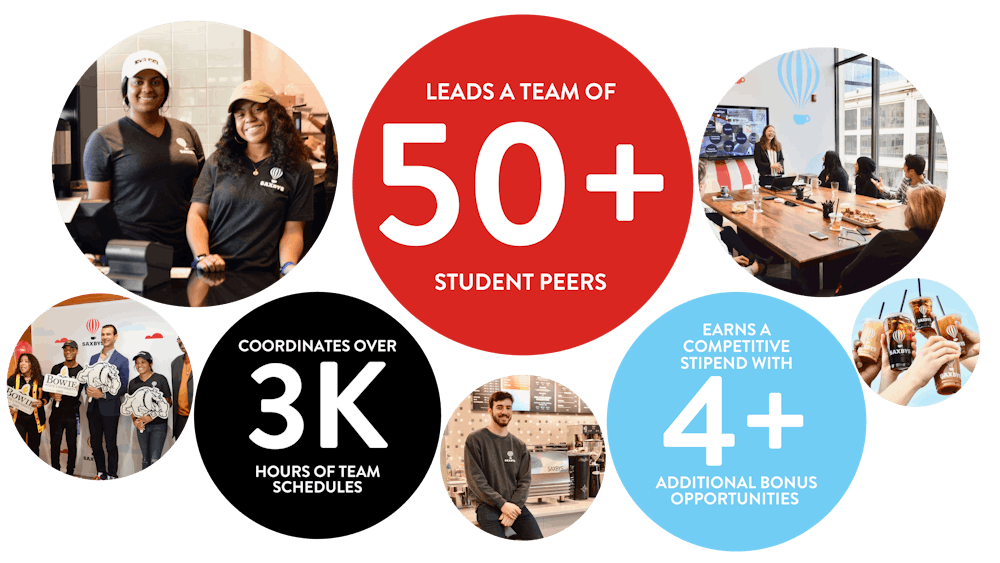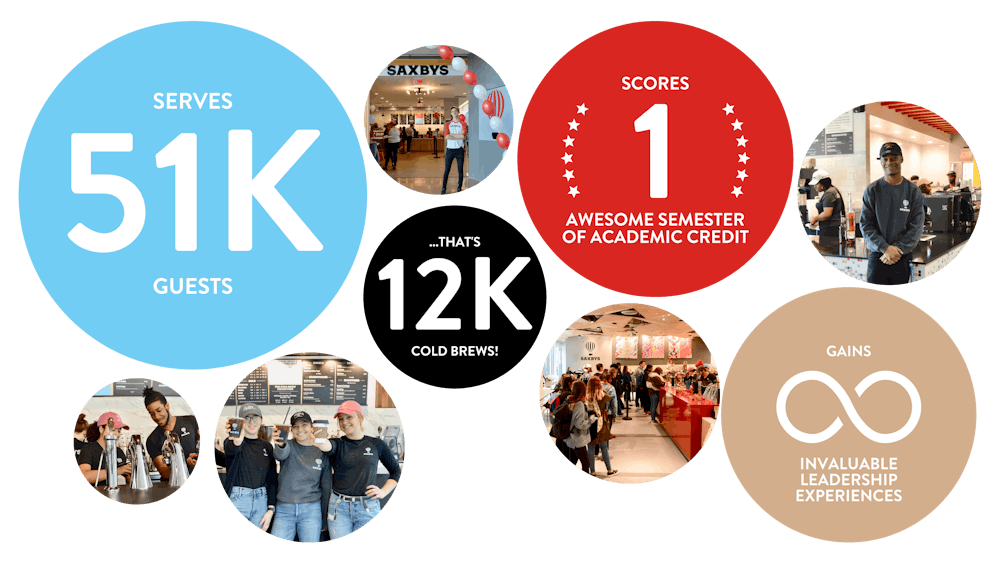 All numbers above are reflective of the average semester experience, each cafe may be busier or a tad slower!
YOUR CHANCE TO RUN A BUSINESS.
Applying and interviewing for the Saxbys Student CEO® role is exactly like putting yourself forward for any professional position.
Or, get your Saxbys story started & apply to be a team member.
Put your best foot forward by following our best practices for the process.
| | |
| --- | --- |
| | Practice makes perfect! |
| | Be sure to proofread your application at least two to three times before submitting. In a competitive environment, it's crucial to submit error-free documents. |
| | Double check your résumé! |
| | Is it entirely up-to-date, inclusive of action-oriented data points, and in chronological order? |
| | It's important to remember that your interviewers are human, too. |
| | Think of the interview as both an exciting conversation, and a great learning opportunity. |
| | Always do your research! |
| | At Saxbys, potential Student CEOs interview with a Campus Recruiter, a member of our Executive Team in Operations, and finally our CEO! Read our website carefully, be ready to talk about our Core Values, and try to visit a cafe before your interview. |