Certified B Corp Saxbys and Mount St. Mary's University Announce Student-Run Cafe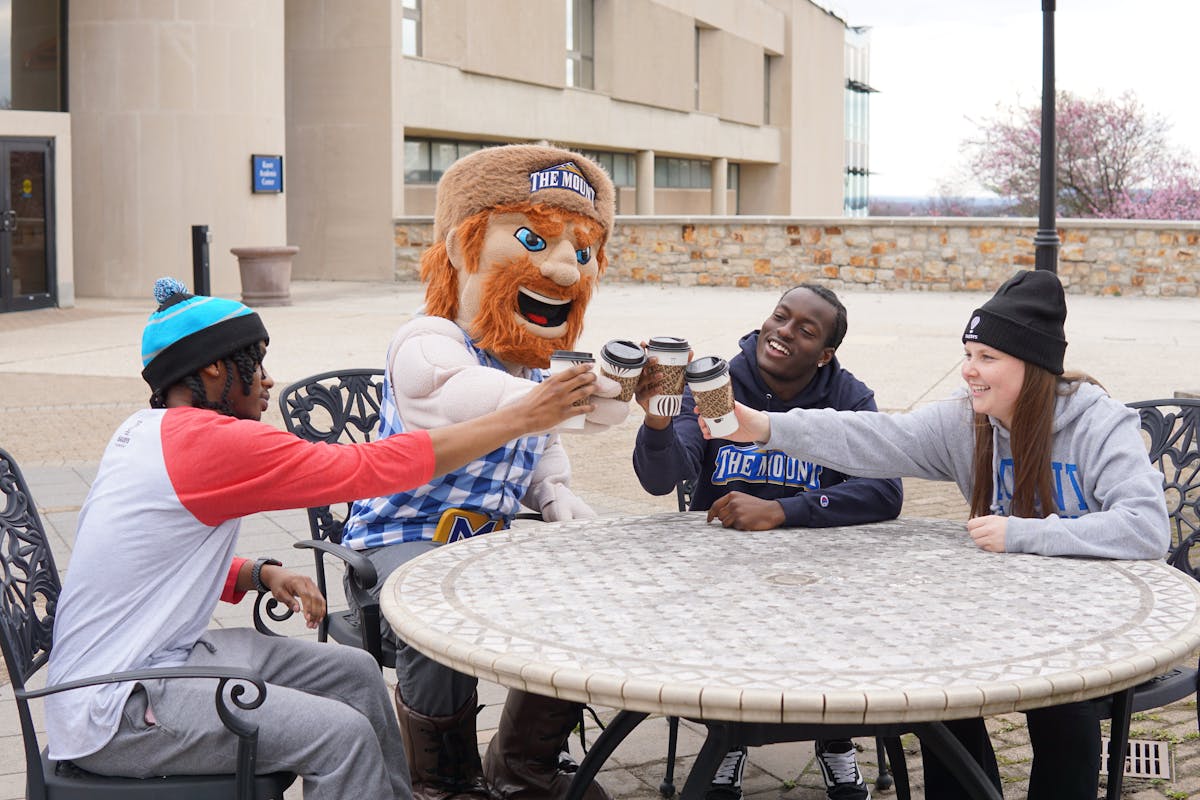 The Saxbys Experiential Learning Platform expands in Maryland
Emmitsburg, MD (April 7, 2022) — Mount St. Mary's University and Saxbys, a Certified B Corp, have formed a partnership to open an exclusively student-run cafe on campus in the fall. Through The Saxbys Experiential Learning Platform (The Saxbys E.L.P), students will be empowered to attain real-life business experience, in addition to earning college credits and a salary.
The new cafe is part of a network of Saxbys' pioneering Experiential Learning Platforms holding residence in institutions like Penn State, Bowie State, and John Carroll Universities. The platform is designed to embolden the next generation of changemakers by providing undergraduates with entrepreneurial opportunities as a supplement to traditional classroom learning. What makes this program even more special is Saxbys' Student Cafe Executive Officers (Student CEOs), who manage all aspects of their cafes, from team development and community leadership to the entire profit and loss statement.
Saxbys and Mount St. Mary's are excited about their new partnership, bringing the platform to the Emmitsburg, Maryland campus in Fall 2022. The cafe will be located in the Knott Academic Center, which is currently undergoing an expansion and renovation that will bring technologically advanced collaborative spaces and a Bloomberg Classroom Laboratory as well as more classrooms and faculty offices. In this prime location, the cafe will be a busy cornerstone of campus life, providing the student leaders with a dynamic business that presents real-world challenges and opportunities.
"The Saxbys partnership will enable students to put what they learn in classrooms into practice, honing their business, entrepreneurial and teambuilding skills," said Mount St. Mary's President Timothy E. Trainor, Ph.D. "This experiential learning opportunity will complement existing leadership development programs on campus and our robust internship program to help ensure that students are well set up for life after graduation."
After launching the The Saxbys E.L.P. in 2015 and opening 15 university-based cafes primarily in the region around Saxbys' Philadelphia headquarters, Saxbys has grown to both the south and the west, opening in Maryland with Bowie State University in 2019 and more recently launching cafes in Pittsburgh and Ohio in 2021 and 2022. Mount St. Mary's will be the first Saxbys E.L.P. cafe in a private institution in Maryland, the second Saxbys E.L.P. cafe in the state, and the third within a Catholic university.
"We're passionate about providing students with an immersive, hands-on educational experience, and couldn't be more excited to bring this opportunity to Mount St. Mary's University," said Nick Bayer, Founder & CEO of Saxbys. "Since our initial meeting in 2021, President Trainor has been an enthusiastic champion of our program. Saxbys looks forward to empowering students at the Mount to further their education outside the classroom."
In the weeks to come, Saxbys and the Mount look forward to announcing the inaugural Student Cafe Executive Officer who will lead the cafe.
Learn more about Saxbys and find a cafe near you by visiting hellosaxbys.com.
ABOUT MOUNT ST. MARY'S UNIVERSITY
Mount St. Mary's University is a private, liberal arts, Catholic university in the Catoctin Mountains near historic Emmitsburg, Maryland, with a satellite campus in Frederick, Maryland's second-largest city. The university offers 80-plus majors, minors, concentrations and special programs for traditional undergraduate students, and more than 20 adult undergraduate and graduate-level programs as well as 24 NCAA Division I athletic teams. The Mount includes Mount St. Mary's Seminary, the second oldest in the United States, and the National Shrine Grotto of Our Lady of Lourdes, an idyllic shrine for spiritual reflection located on the hill above the university.