Passing the Latte: Kelly Ingram Brings Saxbys West Chester From Idea to Reality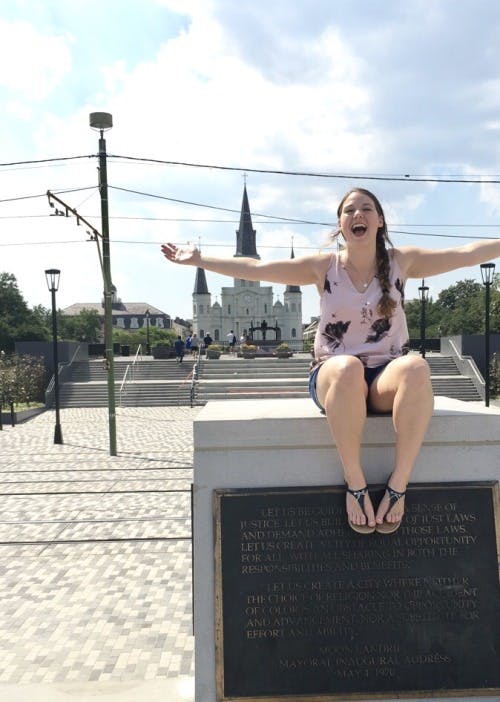 Kelly Ingram has had a busy six months.
As the very first Student Cafe Executive Officer (SCEO) at Saxbys West Chester, Kelly managed 36 team members, and helped create dynamic cafe culture where team members frequently hang out on their off time. She also worked hard to get the word out on campus and find community groups to partner with for philanthropic projects. If that weren't enough, Kelly set baselines for sales and product order.
It was all part of the Saxbys Experiential Learning Program, where we empower undergraduate students like Kelly to lead all aspects of a cafe while earning college credit and a competitive salary.
It was a huge job but the 22-year-old was up for the task. Shortly after Kelly finished her tenure with Saxbys, we sat down with her to discuss her experience.
Overview
How would you briefly describe your experience as a SCEO?
It was extremely exciting and I grew a lot. I also got to watch my team grow, which was incredibly rewarding. I still pop into the cafe and say hello to the team.
Did being the very first SCEO at Saxbys West Chester bring any unique challenges?
I had to be a brand ambassador in the area to get people to start coming to the cafe, but also working out the kinks of a brand new team, and making sure they feel supported. In the beginning, it was very hands-on, but by end, the cafe was self-sustaining because my team grew a lot, took charge and knew what to do.
What are your career aspirations and how does this program prepare you for your eventual career?
I'm thinking along lines of strategic development and consulting in finance. I like planning, seeing things through and achieving growth. Working with Saxbys showed me the importance of developing a strong team dynamic. That's something that will help me in any job I have in the future. It also taught me to be comfortable juggling a lot of projects at once and that time management is crucial.
What was the biggest surprise?
I've never had a job where people like to hang out when they're not on shift. That was really cool. You can go into the cafe at any point and there's a handful of team members studying or hanging out with friends during their free time.
Team Development
How did you build a culture based off your leadership style at your cafe within six months?
I'm definitely a people person. I love having one-on-ones with team members. It's important to invest in your team and empower them to make decisions. If they see an issue or have an idea to make the cafe better, I want to hear about it. Being open to that feedback made team members more empowered to offer ideas.
What was the most rewarding aspect of developing your team?
Seeing the friendships they developed with one another. Also their growth. Many on the team didn't know much about the finer points of coffee and hospitality before we opened. Now, they're pros. It's cool to see them develop not only professionally but personally.
What was a major obstacle you had to overcome when it came to developing your team?
Trying to make as much time as possible for team development was a challenge. Some days, I had a long list of business-related tasks to finish, meaning I couldn't be as present as I would have liked to be.
Community Leadership
What community related events were you particularly proud of?
We did a Pay As You Wish event on November 27. My team jumped on board, were super-excited about it and we raised money for the Charles A. Melton Arts and Education Center in West Chester. It was amazing to see the community of West Chester University, the community of Saxbys and the borough of West Chester come together for that event. I also got to be on TV!
Did you do anything else to get the word out?
We would drop brew boxes around campus. We handed out free drink cards. My team would wear their Saxbys shirts to class. Also during finals week, we dropped coffee at different places where people were studying. We knew that's a time when people needed some caffeine and it helped them learn about our brand.
Financial Management
How did you achieve mastery of managing your profit/loss statement (P&L)?
Being a senior in college helped because I had a lot of training in class. It was cool to look at the P&L and see how my decisions affect the numbers. Am I over-ordering? Can I find any patterns? It was a challenge because I can't compare with the previous semesters to see the ebbs and flows so I just analyzed the numbers week-to-week. I notice we have an increase in the beginning of the semester when students are flush with cash, then there was a decrease towards the end of the semester when students are running out of money. So the end of the semester is a good time to host events or run special deals to bring the numbers up.
How did you keep your cafe accountable to the day-to-day responsibilities of managing costs?
I would print out a weekly waste log and post it to our board. I also had meetings with the team to go through the waste log and educate the team. It's hard to understand waste unless you see it quantified and see how much it adds up over the course of a semester. Empowering team leads to implement cost-savings ideas helped them buy in much more.
What advice do you have for the incoming SCEO?
Find balance from beginning. Be strategic in the use of your time. Now that there are team leads who are developed and strong, let them handle important things.