Meet the 21-Year-Old Running Saxbys Bowie State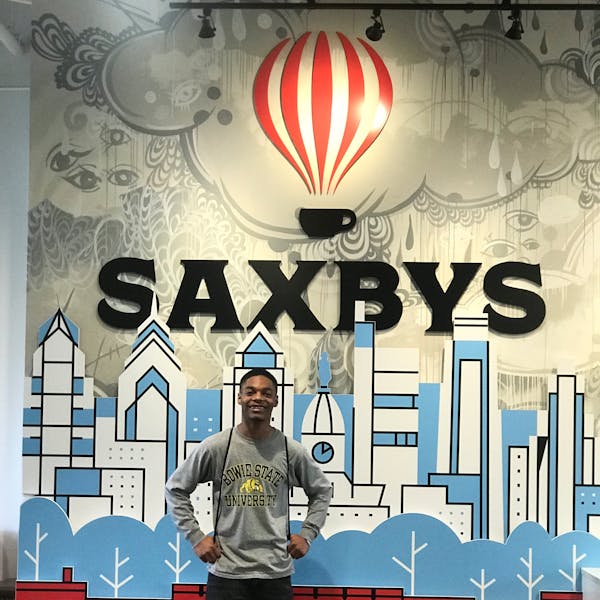 Devin Gallion is not the type of guy who simply coasts along. Case in point: As a freshman at Bowie State University, he got a job in the cafeteria washing dishes. He knew he had more to give but rather than wait for a promotion, he proactively started hanging around the cooks, asking questions. Soon enough, someone called in sick and Devin was behind the line getting his hands dirty with pizza dough, not soapy dishes. Months later, he was in the front-of-the-house making omelettes, interacting with guests and helping to train younger cooks.
Devin has the inquisitive, go-getter mentality we love at Saxbys. So when it came time to hire an undergrad to serve as Student Cafe Executive Officer of our brand-new Saxbys Bowie State cafe, we knew Devin was the perfect choice. Although he's only 21 years old, he'll be running all aspects of the cafe through our Experiential Learning Program — gaining college credit and competitive pay in the process.
The Baltimore native and Phi Beta Sigma fraternity member is ready for the challenge. He's spending his summer in Philly training at Saxbys HQ and can't wait until the cafe opens this fall. We sat down with Devin to learn a little more about his plans for the cafe.
Overview
How do you hope to build your knowledge and skill set as SCEO?
As the inaugural SCEO of Bowie State, I would like to develop my leadership skills. It's nice to say you are a leader but much better to show it. I want to be that hands-on person in the cafe where all the team members feel comfortable asking for help — rather than the guy they stay away from so they don't get in trouble.
This is the first time Saxbys is bringing this program to a Historically Black College or University (HBCU). Do you hope this program catches on at other HBCUs?
I'm being held at such a high standard and when I do excel at the Saxbys cafe, they'll see it's possible to do and maybe branch off HBCUs.
Team Development
How do you plan to build a culture based off your leadership style in just six months?
Smiles. Everything starts with a smile. I also want to build a team where everyone has a great working relationship with one another based on mutual respect. Having a friendly attitude will help me build that culture. When I was a resident assistant, I realized that building bonds is far more effective than being assertive. I'll ask them about their day before I ask them to do the a task. Not just asking about their day but genuinely caring about their answer really goes a long way.
What is a major obstacle you'll be facing when developing your team?
The size of staff. Having 25 different personalities, 25 different schedules, and 25 different agendas will be difficult to manage. Some people might just be there for the paycheck. Some will really love coffee and hospitality. It's my job to get those 25 people on the same page, and help them harness the unique things they have to offer.
Community Leadership
I know it's early, but do you have any thoughts on specific community programs you might run in your cafe?
I'm thinking open mic nights. Also there are a lot of artists on campus. Maybe we'll have listening nights for their music. I plan on doing two programs per week. I don't think that's too ambitious. As a resident assistant and in my fraternity I'm used to doing programs and collaborating with other organizations.
Financial Management
How do you plan to manage and understand your profit/loss statement?
Financial development is the pillar I'm most looking forward to. It's where I think I can have the most growth. It's amazing to have a team of trainers who can help me as I learn. It's the best next step for me and my growth. I'll keep working my way up and learning each part of it — and I'm confident that I'll master the financial management in the end.
Final Thoughts
How will this program jump-start your career in business management?
Despite being 21, I'm getting the experience of a 25 or 26 year old who patiently waited to get a management role — but I'm getting it while in school. It's preparing me so when I do graduate, I'll hit the ground running — whether that's with Saxbys or another company that hires me for a manager position. It's only raising the bar for what I can do.
What's your favorite Saxbys beverage?
Vanilla bean cold brew. That's my go-to.