Introducing Grilled Cheese Steeped Cold Brew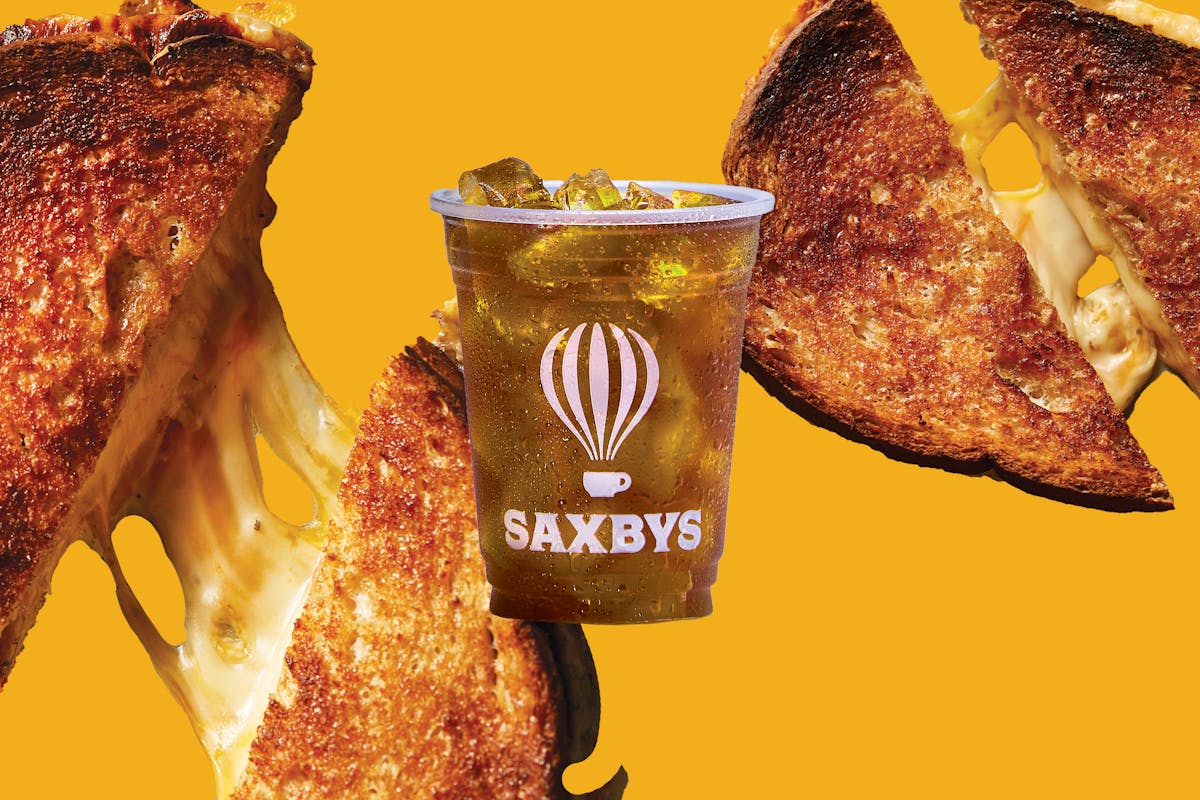 Hot & Melty yet Cold & Refreshing
Yes you read that right. This isn't your average cold brew. We've spent the past year researching & understanding new approaches to please our guests, and are proud to introduce Grilled Cheese Steeped Cold Brew; a comforting splurge with on-the-go convenience.
Following the same winning recipe from our signature Grilled Three Cheese sandwich - we cook sandwiches up to be perfectly crispy & melty and then immediately dump them in a vat of milk to steep for at least 24 hours. The drinks are then made-to-order; pairing a milk infused with complex grilled cheese flavor with cold brew for a drink that has the viscosity of a milkshake and all the comforting nostalgia of a hot grilled cheese sandwich.
Most importantly the ingredients used are bread that's a bit stale and cheese that's a bit 'too aged'; so this recipe cleverly utilizes ingredients that would have otherwise been thrown out and transforms them into something totally different yet just as appetizing.
"I like how we have an alternative to a traditional grilled cheese sandwich" says Ally Romey, Saxbys Head of Culinary Development. "We've seen all year how much our guests love to pair a hot grilled cheese sandwich with a refreshing cold brew, and it seems too obvious to us that they demand something hot & melty yet cold & refreshing"
The recipe was inspired by the mobility of yogurt in a tube. Our teams observed guests rushing to classes and struggling to find time to refuel, and we are proud to give them the ability to caffeinate and eat lunch at the same time. For those watching their diets, they will be happy to know that at 6,000 calories, you won't want or need to eat for the rest of the day.
But can a drink be both hot & cold at the same time?
Saxbys VP of Marketing & Product Russ Wilkin proclaims, "We asked ourselves the same question exactly 2 years ago today when we launched Hot Cold Brew across all of our cafes. We've heard from guests that was the most interesting decision they've ever seen us make, and I believe they'll find Grilled Cheese Steeped Cold Brew to be just as interesting."
As obviously interesting as Grilled Cheese Steeped Cold Brew may sound, our team made sure to test out & refine the concept -- with Apple Pie, Birthday Cake Cookie, and Chocolate Chip Cookie versions. We saw an amazing guest response and had the confidence needed to steep cold brew with our most popular non-cold-brew menu category, Grilled Cheese.