5 Reasons to Apply for a Cafe Executive Officer Role at Saxbys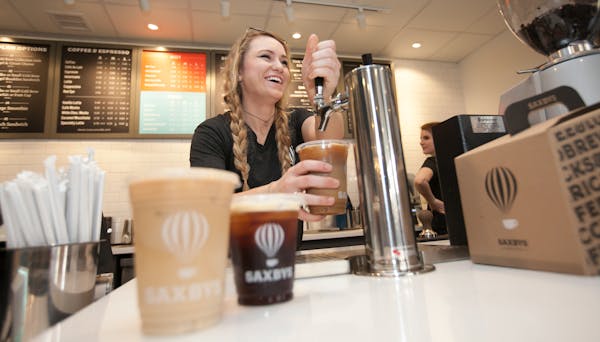 Do you want a job that empowers you? Are you ready to manage people, make decisions that truly matter, and earn competitive pay in the process? Do you want to embark on real-world, experiential learning endeavor that's sure to make for a great story rather than just a line item on your resume?
A Cafe Executive Officer role at Saxbys might just be for you. As the "CEO" name suggests, you'll run all aspects of a Saxbys cafe.
Team development: You'll hire, train, manage, and (ideally) promote people as they grow.

Community development: You'll engage with the people in and around your Saxbys cafe on marketing initiatives, community outreach and philanthropic projects.

Financial management: You'll crunch the numbers on revenue, inventory, and spoilage to make sure your profit/loss statement is on the money every month.
Think you can handle it? We have multiple positions open, so apply now!
Not sure you can handle all that? Don't sweat it. Our A-to-Z training program can teach you everything you need to know. You'll spend time at Saxbys HQ working with some of the best trainers in the business and get an inside look at how we run our operations.
If you have hospitality or management experience we'd love to hear from you! If you don't have hospitality experience — but you have an amazing attitude, impressive work and school history, and the deep desire to good things in the world, don't be afraid to drop us a line.
Still wondering if Saxbys is for you? Here are five more reasons to polish up that resume.
1. Freedom. It's your cafe. You develop team members using your own unique management style. You make your own schedule. The coaches at Saxbys HQ don't hover over you. Instead they empower you to make decisions and run the operation.
Just take it from Lizzy Marcotte, the first-ever Saxbys Cafe Executive Officer. "My favorite part of being a CEO is easy. Ownership! I had many jobs in the industry but I was always the 'number two' and was rarely allowed to make big decisions. Through my years at Saxbys I found that you are truly given ownership of your cafe as a CEO, and the responsibility to follow through."
2. Upward mobility. At Saxbys, we're always looking for talented people to join our growing company. Hiring former CEOs into corporate roles is a major part of that effort. If you're a CEO today, don't be surprised if you're a Training Manager, Marketing Executive — or even a Vice President tomorrow.
Just look at Kristina Syvarth's career arc for example. "I started at Saxbys as a Barista. I worked as a Team Lead and CEO at the Rittenhouse cafe in Philly. After that I was an Operational Leadership Manager, the Director of Training, and about a year-and-a-half ago, I entered into my current role as Vice President of Learning," she said. "The upward mobility at Saxbys is truly extraordinary."
3. You'll manage people (even if you're green). As a Saxbys CEO, you're not just a shift leader — you're developing team members in meaningful ways. They report directly to you. You make their schedules. You train them. You motivate them. You help them harness their strengths and mitigate their weaknesses.
Grace Dewey, currently a CEO at a Saxbys cafe, says team development is her favorite part of the job. "It's challenging me in ways that I haven't been challenged before — and it's super fun and rewarding to watch my team grow. I feel like I'm making a difference in their lives, which is an amazingly fulfilling feeling."
4. You'll manage the finances. Running a cafe is basically like business school in real life. You're crunching the numbers. You're analyzing sales figures. You're accounting for spoilage. You're making sure the cafe stays profitable and expenses are kept on budget. Each month, you'll present your profit/loss statement to Saxbys leadership and get incredible feedback and insight.
"One of my biggest areas of growth as a CEO was my understanding of business finances," said Kristina. "I came into Saxbys with zero understanding of a profit/loss statement. Learning about financial statements in real-time and in a real-world environment helped me grasp the basic concepts of P&Ls quickly and made it enjoyable to learn. I use this knowledge nearly every day in my current role when assessing cafe performance, reviewing the efficacy of our training programs, and developing strategies with my team."
5. You'll gain transferable skills that'll help you in your career. We don't expect you to be a CEO forever. That's why we train you with transferable skills (like team development, community outreach, and financial management) that are beneficial for any career path.
"I have found that the CEO program can highlight strengths and weaknesses right off the bat, since it is such a well-rounded position," said Lizzy. "The skills I picked up during my time as a CEO will serve me for the rest of my life."
Grace agrees: "This is an amazing career opportunity for anyone, especially someone who is unsure of what they want to do long term. The skills that you develop in this role are incredibly lucrative to any job, and will supplement any resume in the best way. Saxbys has taught me things about hospitality, communication, and professionalism that will serve me forever and in any walk of life."
We're growing. Are you ready to grow with us? Apply for a Saxbys CEO position now!