A Recipe You'll Vanilla Love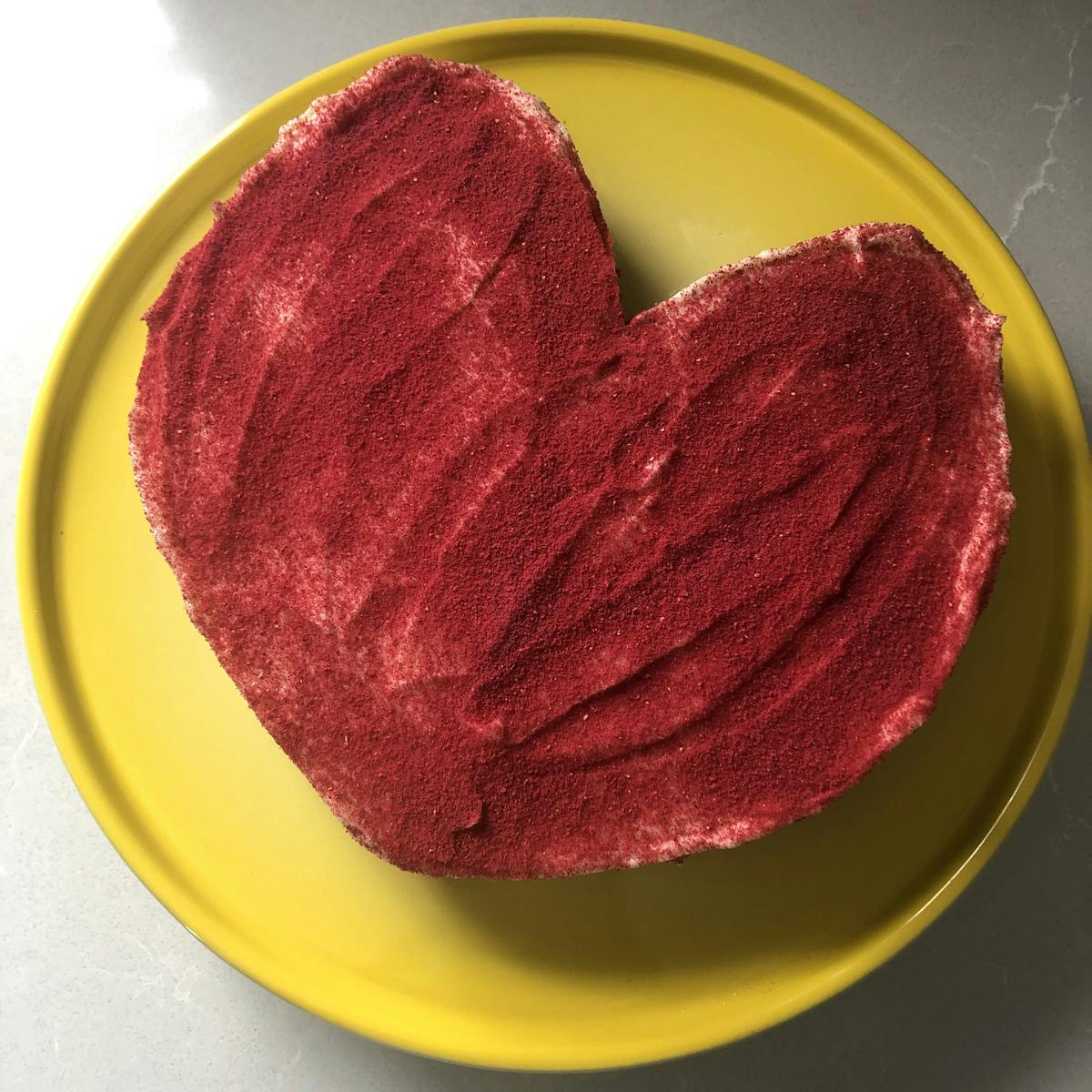 And so, the Vanilla Love Matcha love affair continues… Meet the Vanilla Love Cake inspired by our limited-time cafe hit! Enjoy this sweet treat this Valentine's Day and beyond - but bonus points if you pair it with a Vanilla Love Matcha from one of our cafes.
(BRB, sending tons of love notes to our Culinary Developer, Ally, who surprised us with this clever confection!)
Vanilla Love Cake
For the Matcha Cake, makes 1, 8-inch cake:
1 1/3 cup all-purpose flour
1 teaspoon baking powder
¼ teaspoon salt
1 tablespoon plus 1 teaspoon Saxbys x Matchaful Organic Matcha
1 stick butter, softened
3/4 cup granulated sugar
2 eggs
1 teaspoon vanilla extract
½ cup milk
1. Preheat oven to 350 degrees.
2. Using an 8-inch cake pan and a sheet of parchment paper, trace the outline of the pan onto the parchment paper. Cut the circle out. Fold in half and trace a heat shape. Cut the parchment into a heart, save for after the cake is baked. Grease the pan with cooking spray.
3. In a small bowl, mix together flour, baking powder, salt and matcha.
4. In another bowl add the butter and sugar. Using an electric mix, beat the butter and sugar until creamed and fluffy, about 2 minutes.
5. Add eggs one at a time and mix. Add vanilla.
6. Add flour mixture and milk, alternating between flour and mix in 2 stages. Mix until just combined.
7. Pour batter into pan and smooth into an even layer. Place in oven and bake for about 25 minutes, or until a toothpick inserted into the center comes out clean.
8. Allow cake to cool to room temperature and remove from pan onto a serving plate.
9. Place the heart shaped parchment paper onto the cake. Using a serrated knife, trim the cake into a heart.
For Vanilla Bean Frosting & Topping:
1 stick butter, softened
3 cups powdered sugar
¼ cup milk
1 vanilla bean, scraped
1 teaspoon vanilla extract
1 tablespoon raspberry powder
1. Add butter to a bowl, using an electric mixer beat butter until light and fluffy, about 2 minutes.
2. Add powdered sugar, milk, vanilla bean and vanilla extract. Mix until creamy and smooth, about 5 minutes.
3. Spoon onto cake and spread into an even layer.
4. Add raspberry powder to a mesh strainer and dust over the cake.
5. Snap a pic or Tiktok to share with @Saxbys then devour!
Share with a friend to pass on the love!