We Updated Our App!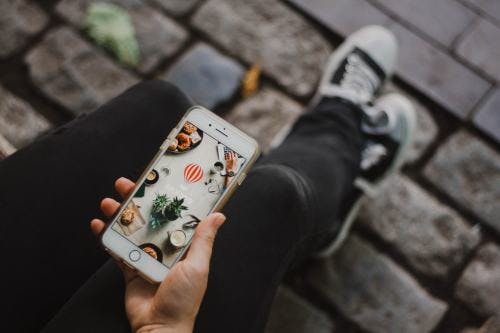 We have some news here at Saxbys: we updated our app and we've got some new features we're excited to share with you. First, we're rolling out our all-new Order Ahead feature at participating locations with plans to roll out to all of our cafes in the coming months! In addition, with an updated app comes an updated Rewards Program that celebrates all of Saxbys' movers and shakers. Below is everything you need to know:
How do I earn rewards?
It's super simple: use our app for every purchase you make - either in the cafe or through our new Order Ahead feature. Paying outside the app? No problem. No matter how you choose to pay, you can still earn rewards. Just remember to scan your device at the register before you complete the transaction! Each time you scan for rewards, you'll make progress toward earning credits.
To make this more digestible for you, you'll be able to view the progress of your spending with our new tracking feature which – along with showing you your spend progress – also shows you your tier level progress.
What are the new tiers and how do they work?
With our new Rewards Program, we also have a new tier system to recognize our loyal guests. When you first enroll into our loyalty program, you'll begin at Mover status. At that level, you receive a $5 reward for every $100 you spend. Spend $300 in a 12-month period and you'll move up to Shaker status, which – along with some surprise perks you can read more about below – means you'll receive $7 for every $100 you spend.
Once you reach Shaker status, you'll enjoy the benefits for 12 months starting from when you reached the tier. If you continue to meet the qualifying amount year over year, you stay enrolled as a Shaker. Along the way, you'll receive all sorts of additional rewards and surprises – maybe free coffee for a week? Maybe some free merch? Only one way to find out.
Sounds awesome! How do I get started?
Also easy - just go to your app store and update your Saxbys app by Monday, Oct. 8! If you've deleted it, download a fresh, new version. We've got the rest covered. Once the update for existing users is complete, any loyalty progress you've made on our previous version will remain as is until you receive your credit. After you do, you'll start your progress over and begin working your way to your next one. If you already have a credit from our previous version of the app you haven't yet used, that credit will remain in your rewards.
Don't forget - you also get a $3 credit for every friend you recommend to download the app. Make sure you're spreading the word to get more $ on your 📱
TL;DR: the more loyal you are, the more rewards you receive!
Our goal is to reward our most loyal guests for continually choosing us. If you have any questions or concerns, email us at saxbysapp@saxbyscoffee.com. We're here to help!