U R Welcome: Bonkosi Alyssa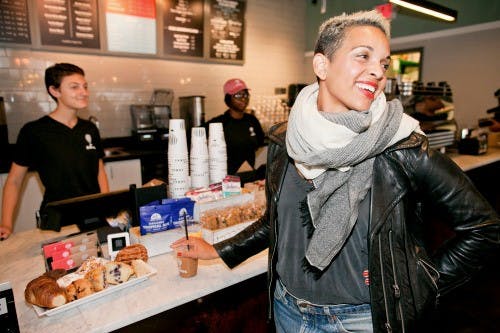 "U R Welcome" is the brainchild of Reuben "Big Rube" Harley. It's a series of interviews with black influencers and tastemakers in Philadelphia discussing race, community and how Philly can be a place where everyone is welcome. When Rube came to Saxbys with the idea, we jumped at the chance to work with him to tell these stories.
Bonkosi Alyssa [aka "Bon"] has a passion for connecting and growing communities and is fueled by creating, innovating and problem-solving. She and her partner, Morrisa Jenkins, will soon be opening Freedom Apothecary in Northern Liberties, a natural skincare and self-care boutique and community space that likes their products the way they like their people — non-toxic. She and Morrisa hope to cultivate a space of inclusion, representation and access to a clean and sustainable lifestyle.
Big Rube sat down with Bon to learn more about business, her passions and why she thinks inclusivity is such an integral part of Philadelphia.
Tell us about Freedom Apothecary.
Freedom is a clean beauty and wellness brand and retail space in Northern Liberties. We will offer natural beauty, skincare and wellness products and custom farm-to-face skincare services. A really unique aspect to what we'll offer is a blend-your-own skincare bar where you can make custom products. Book a spot at our blend bar or bring some friends along to host a private session. A unique offering will different workshops — tackling race, diversity + inclusion, womanhood and self-expression in the wellness space in Philadelphia and beyond.
What does inclusivity mean to you?
Everyone is welcome, everyone is valued and if you share who you are, you'll have a place.
What does U R Welcome mean to you?
There's a place for me to come and be me and feel at home, loved and valued. Saxbys is a great representation of that — I get to come to a cafe, feel the energy in the space and use that energy to cultivate my creativity and community.
How do your endeavors fit into the City of Brotherly Love and Sisterly Affection?
Philly is full of possibility and potential — you can be the pioneer to start something amazing in this city that's never been done before.