#TreatYoSelf This Valentine's Day With the Saxbys X Dottie's Limited Edition Donut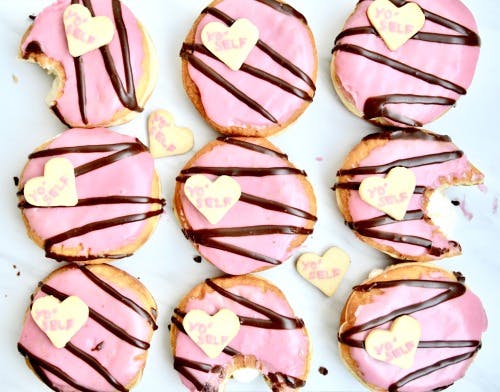 Whether you're in puppy love or living the single life, everyone is entitled to something sweet on Valentine's Day. That's why Saxbys partnered with Dottie's Donuts to offer the limited edition Saxbys X Dotties #TreatYoSelf donut. It's got champagne cream, raspberry glaze, chocolate drizzle and topped with a heart-shaped cookie. It'll be available exclusively on the Saxbys app new and existing users.
Did we mention it's completely vegan?
"Valentine's Day is about freely giving and receiving love. That includes self-love, so we wanted to spark a collaboration that was centered on treating yourself" said Saxbys Founder and CEO Nick Bayer. "We've been big fans of Dotties for quite some time — they're a Philly company serving vegan, high-integrity, rave-worthy donuts — what's not to love?"
Matt Quinn, co-founder of Dottie's Donuts, agrees that whether cupid is shooting an arrow in your direction or not, our new donut can make your day.
"Whether you're celebrating Valentine's Day with a loved one or giving yourself a little love on your daily commute, we're excited to offer guests a Saxbys exclusive treat!" said Matt.



Dottie's Donuts started in 2014 while Matt and co-founder Jeff Poleon worked at a vegan pizza shop called Blackbird Pizzeria in South Philly. So why not make vegan donuts? What started as a side project with Matt and Jeff spending hours in their kitchens and doing late-night deliveries, blossomed into a full-scale operation with locations in West Philly and South Philly.
They certainly got our attention after the Philadelphia Eagles won the Super Bowl last season, creating the "Tom Brady's Butterfinger" donut to celebrate the quarterback's dropped pass and crucial fumble, and the "Greased Pole" a fun take on how Philadelphia police greased the city's lamp posts so excited fans don't climb them (even though they still did.)
Now they're working with us, and Matt is pumped about the collaboration.
"Like Dottie's, Saxbys takes great pride in serving Philadelphians," he said. "We're excited to collaborate with a local company who values Philly and the people who make up this great city."
The special donut will be available via the Saxbys app through our Order Ahead functionality at select Philly locations while supplies last. Swinging by a Saxbys cafe to grab one? Make sure to snap a photo for the Gram and tag @Saxbys and @DottiesDonuts.


#philly #treatyoself #donut #valentinesday #vday #food #delicious #philadelphia #saxbys #saxbysphl #yummy #coffee #coffeeshop