Saxbys Partners with the University of Pittsburgh to Introduce Two Experiential Learning Cafes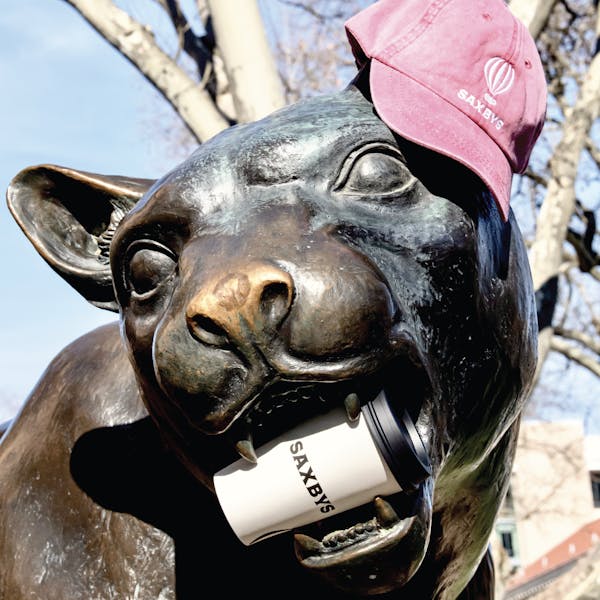 Student Cafe Executive Officers will earn wages and Pitt Business credit at cafes in Pitt's Cathedral of Learning and Hillman Library
PITTSBURGH (February 10, 2020) — Saxbys, a social impact and coffee company headquartered in Philadelphia, is thrilled to announce its partnership with the University of Pittsburgh (Pitt) to introduce two exclusively student-run cafes to campus in fall 2020. Saxbys' first cafes in the Pittsburgh market will be located in the Cathedral of Learning and Hillman Library.
Saxbys will partner directly with Pitt's College of Business Administration (Pitt Business) and will employ two undergraduate business students each semester as Student Cafe Executive Officers (SCEOs). The SCEOs will exclusively run and manage all aspects of their cafe including team development, community outreach initiatives, and cafe financial reports. Each SCEO will earn competitive wages, bonus opportunities and a full semester of college credit throughout their tenure, gathering invaluable experience along the way. The cafes will be staffed entirely by Pitt students.
The new cafes are part of a network of Saxbys' pioneering Experiential Learning Platform holding residence in institutions like Penn State, Temple and Drexel universities, designed to embolden the next generation of changemakers by providing undergraduates with entrepreneurial opportunities as a supplement to traditional classroom learning.
"For 233 years, the University of Pittsburgh has been a leader in higher education, providing opportunities to their students and faculty," said Saxbys Founder and CEO Nick Bayer. "As such, it's a tremendous honor to partner with the University of Pittsburgh to bring our innovative Experiential Learning Platform to campus and add to the long tradition of academic excellence."
"At Pitt Business, we take our students from the classroom, to the city, to the world, and believe that real-world experience is the best teacher. The Saxbys partnership is a great way to enable students to put what they learn in classrooms into practice in an integrative context," said Arjang A. Assad, Henry E. Haller Jr. Dean of the Joseph M. Katz Graduate School of Business and College of Business Administration. "The two Pitt Business SCEOs will work together with their peers from various majors to develop skills and promote teamwork to help them succeed in the future."
In the weeks to come, Saxbys and Pitt look forward to announcing the two Pitt Business students who will lead the new cafes expected to open this fall. The Cathedral Café on the ground floor of the Cathedral of Learning and Cup & Chaucer Café in Hillman Library will be renovated to create space for the student-run Saxbys locations.
Learn more about Saxbys and find a cafe near you by visiting hellosaxbys.com.
ABOUT SAXBYS
Founded in 2005 by Nick Bayer, Saxbys is a hospitality and coffee company. Each cafe is an uplifting environment filled with friendly faces, delicious drinks and exceptional food to fuel the day's possibilities. With a core mission to "Make Life Better," Saxbys brews real change in the communities it serves, while nurturing the entrepreneurial spirit in team members who aspire to make an impactful difference. In 2015, Saxbys launched its pioneering Experiential Learning Platform to introduce exclusively student-run cafes to university campuses, complementing classroom learning with tangible experiences. Currently, 10 Experiential Learning Platform locations exist across eight campuses with partners including Drexel University, Millersville University, Temple University, La Salle University, West Chester University, Penn State University, Bowie State University and Saint Joseph's University. Get to know Saxbys by visiting hellosaxbys.com or joining us on Twitter, Facebook and Instagram.
ABOUT PITT BUSINESS
The University of Pittsburgh's College of Business Administration seamlessly integrates the academic, career and international experiences that are essential to preparing students for roles in global business. Pitt Business is ranked among the nation's best business schools and offers students an array of experience-based learning opportunities. The Bachelor of Science in Business Administration program offers seven majors and five certificate programs, each complemented by an array of case studies, consulting projects, case competitions, internships and global experiences. Visit cba.pitt.edu.
###


Media Contacts:
Saxbys:
Raymond Smeriglio
717.599.8429
ray@hellosaxbys.com
Pitt:
Kevin Zwick
412-624-0148
zwick@pitt.edu