Saxbys + Philanthropi = A New Way to Give This Holiday Season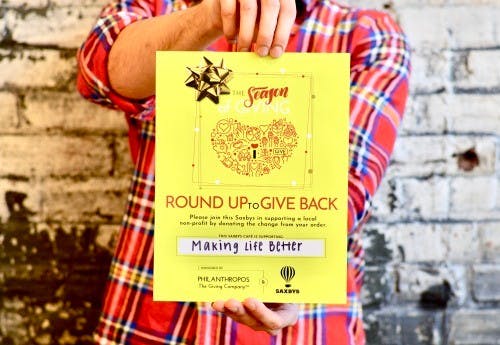 Keith Leaphart has a passion for philanthropy. His new startup brings philanthropic giving to the masses.
Leaphart recently launched an app called Philanthropi, which connects people to causes and community. The app tracks money raised and time spent working in the community, and showcases it all in an easy-to-read dashboard. It also converts acts of philanthropy into social currency, encouraging users to compete with their friends to see who's making the most impact. It seems like the perfect next step for the physician, entrepreneur, and chair of the Lenfest Foundation — one of Philadelphia's most generous non-profit companies.
This holiday season, Saxbys is partnering with Philanthropi to make giving easy for any Saxbys guest. They can just round up their bill at the Saxbys register and the money will go to a good cause, like Big Brothers Big Sisters of America, Covenant House and Mural Arts Philadelphia. Each cafe is collecting money for their favorite cause — and the cafe that collects the most money by the end of the year will receive an additional $5,000 for the charity of their choice.
"We feel like everyone has their unique gifts to give," said Leaphart. "That's why the partnership with Saxbys is perfect. CEO Nick Bayer built a culture around philanthropy and his team members share that vision. It's a great marriage."
Bayer says he's excited to help bring philanthropic giving to an even wider audience.
"We're really happy to be partnering with Keith on this project," said Bayer. "With Philanthropi, we can help worthy causes in a new and exciting way. Plus, we're excited to have team members engage in a little friendly competition to see who can raise the most money. It'll make the season of giving that much more special."
It's Leaphart and Saxbys' way of reminding people that no matter how small, their contributions mean a lot. In fact, of the $410 billion given away each year, 70% comes from individuals — dwarfing contributions by large foundations or corporations.
"We want individuals to see their true role in the marketplace," said Leaphart. "Those small contributions at the cash register are critically important. They don't lead to your name on a building or a ribbon cutting — but if individuals stopped giving, the entire non-profit ecosystem would collapse."