Saxbys Opening Student-Run Cafe at Bowie State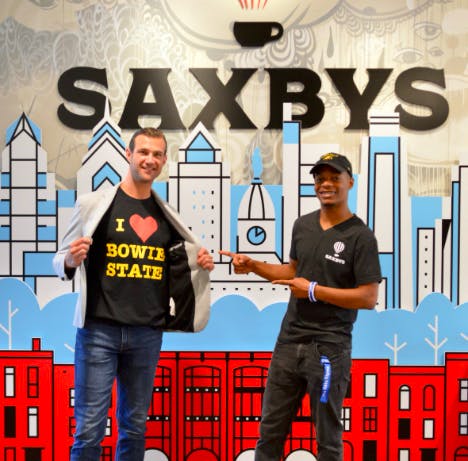 We're pumped to announce that Saxbys is bringing its Experiential Learning Program to Bowie State University. In Fall 2019, we'll be opening a cafe run exclusively by students. That means they're literally responsible for all cafe operations — everything from managing team members to presenting monthly profit/loss statements to the Saxbys executive team. It's a big job and we know the talented students at Bowie State will make us proud.
The Bowie State partnership marks the first time we're bringing our ELP to a Historically Black College or University (HBCU) and the first time we're bringing the program to a college outside Pennsylvania.
"We have long admired Bowie State University, an institution whose values are closely aligned with our own," said Saxbys Founder and CEO Nick Bayer. "Under the leadership of inimitable President Breaux, we've watched Bowie State flourish. I could not imagine a more suitable host university to help Saxbys' successfully expand its Experiential Learning Program than this vibrant campus in Maryland."
President Breaux said she's excited to bring the ELP program to Bowie State because it'll give students real-world business and management experience.
"It provides a wonderful opportunity for our students to take on the role of CEO of the full enterprise, learning all of the business operations from the inside out, including the hiring and managing of fellow students," said Breaux. "We welcome this great addition to our campus that will complement our expanding entrepreneurship education programs."
The 20-Year-Old at the Helm
Saxbys Bowie State will be led by Devin Gallion, a 20-year-old business management major and Phi Beta Sigma fraternity member. As Student Cafe Executive Officer (SCEO), Devin is in control of all aspects of the cafe. He's empowered to develop peers into team leaders. He's in charge of implementing creative marketing initiatives. He'll be working with community organizations on meaningful social impact outreach. He's responsible for financials.
It's a tall task, but Devin is ready. He's currently in Philadelphia training at Saxbys HQ and will be a big part of training the inaugural team at the cafe. He'll receive wages, bonus opportunities, and full academic credit during his one-semester tenure.
"I'm being held at such a high standard and when I do excel at the Saxbys cafe, they'll see it's possible to do and maybe branch off HBCUs," he said.
Professionally, Devin hopes his Saxbys experience will jump-start his career.
"Despite being 20, I'm getting the experience of a 25 or 26 year old who patiently waited to get a management role — but I'm getting it while in school. It's preparing me so when I do graduate, I'll hit the ground running — whether that's with Saxbys or another company that hires me for a manager position. It's only raising the bar for what I can do."