Rainier Foley-Defiore Takes the Reigns at Saxbys Penn State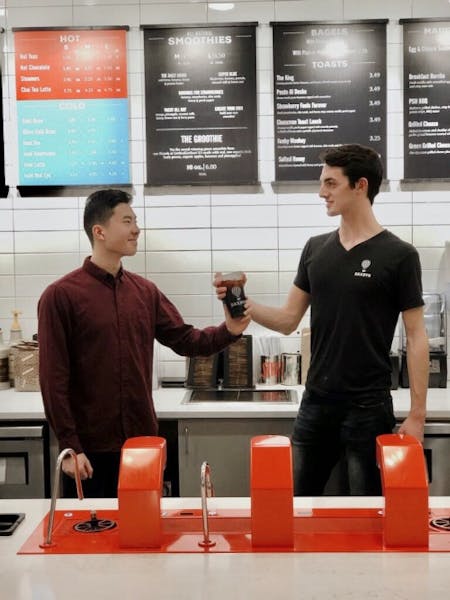 For Rainier Foley-Defiore, cafes are his go-to environment. For years, he's spent his free time drinking coffee while reading or writing at a local cafe. It's kind of his thing.
He's also got the entrepreneurial spirit we love here at Saxbys. Rainier ran his own landscaping, yardwork, handyman business as a teenager. His combination of entrepreneurship, dedication to hard work — and love of cafes — made Rainier the perfect person to run Saxbys Penn State. In that role, he's doing everything from team development to community leadership to financial management. It's a tall order for a 19-year-old but Rainier is up for the challenge.
We sat down with Rainier to chat about his plans for the cafe, and why he thinks it'll help him develop a successful career in supply chain management.
Overview
What do you hope to achieve by taking the SCEO position?
I'm really looking for a challenge. There is an incredible amount of open-ended responsibility that comes with the role. This leadership position brings a lot of opportunities for self discovery — figuring out your different skills and talents in terms of working with peers developing team members, fixing operational problems, and managing your time and schedule. I'm looking to be challenged as a leader and managing an operation of this scale and size will be a great challenge.
What kind of a career do you want after college?
I want to develop a career in supply chain. Straight out of college I want to find a job at a company that has a wide reach, and their own developed complex supply chain, and work my way into a management or leadership position. I'd like to trigger a push toward sustainable standards.
How does this program prepare you for your eventual career?
There are certain life skills that are not only taught but challenged, rehashed and developed through the SCEO program — managing time, managing stress levels, managing people you work with, understanding what motivates peers and helping them succeed in their own right. These skills help establish me as a leader among peers and help me offer guidance, advice, and instruction.
Team Development
How do you plan to build a cafe culture based off your leadership style?
Having a certain level of trust and comfort developed with your team while having clear, specific standards set and upheld from the beginning. The culture I want to develop is one that enjoys the peer-friendly environment of working with similar-aged students and having a good time at a cafe — but also having a real commitment to being very efficient to certain operational standards that can really drive success.
Community Leadership
What ideas do you have to work with the Penn State community?
This is part of the program I've been most excited about. I want to work with certain organizations based in the business building, like business fraternities who have a lot of outreach. I also would love to develop new marketing strategies through the Penn State Marketing Association, a group of highly skilled marketing strategists and graphic designers who are full of lots of good ideas to drive brand presence.
How will becoming a community leader impact your cafe?
I'm hoping that being an interactive, communicatie leader in the community increases the awareness of the Saxbys brand among the community. The first step is business students — and they're already well aware of our brand. They do work in the cafe, the cafe is run by their peers. The second step is reaching to broader business school community — faculty, staff, and the different organizations who hold events here.
Financial Management
How did you achieve mastery to manage and understand your P&L?
I'm focused on getting a solid system of inventory rotation in place. It's a great way to cut down on things you're wasting or the amount of goods you have held up in inventory too long. Also, I want to figure out what sells well and what sells on a good margin — and then do whatever we can to drive those sales. I'll also be looking at different ways we can market within the cafe or outside the cafe.
Final Thoughts
What advice did you get from the outgoing SCEO Ben Yan?
His biggest pieces of advice were on time management and the importance of being empathetic with your team members. Ben cared greatly about this team and it showed in how people felt about him as a leader. He also worked his butt off to have his schedule be super specific — so he knew hour-by-hour where he was going to be and what he was going to be doing.