Introducing Your New 100% Plant-Powered Breakfast Obsession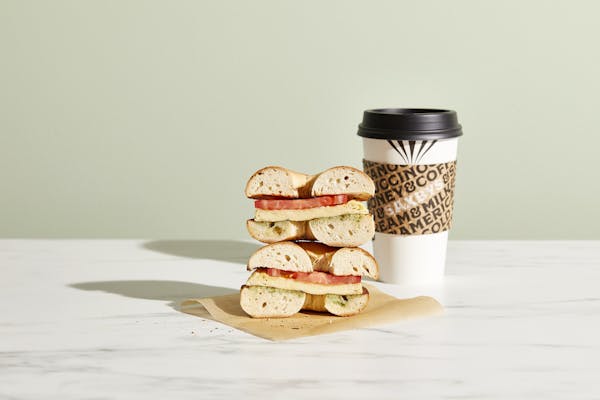 Photo by Stu Goldenberg and creative direction by Taylor Leonardo
Burgers made from mushrooms and black beans. Ground "meat" created with veggie protein. Sausages that are 100% vegan. Yup, plant-based foods seem to be everywhere these days — and it's easy to understand why. People want healthier options that still taste great.
Enter our new 100% plant-powered breakfast sandwich. It starts with a fresh JUST Egg patty that's made entirely from plants and packed with clean, sustainable protein. Then it's topped with house-made, vegan pesto spread, a ripe tomato, and sandwiched on a toasted local bagel. It tastes just as good as the chicken-based sandwich you know and love but without the animal products you may be trying to avoid.
We're excited to be the first to serve JUST Egg in Philadelphia. Made from plants, not chickens, JUST Egg spent years in development by Michelin-starred chefs. JUST Egg has received numerous accolades since launch including Popular Science's "100 Greatest Innovations of 2018," TIME's "10 Smartest Sustainable Products of the Year" and Fast Company's "World Changing Ideas."
National recognition is nice, but it's the local buzz we really love. Our 100% Plant Powered Breakfast Sandwich arrives just in time for Better Breakfast Month (September, in case you haven't already marked your calendar!), and we can't wait to hear what you think.
Stop by any Saxbys with a made-to-order breakfast program to get your hands on a sandwich of your own. Equally encouraged? A quick tag on Instagram to show us what's good. We're @saxbys, and our DMs are always open.