Pete Merzbacher Brings an Artisan's Take to a Simple Pleasure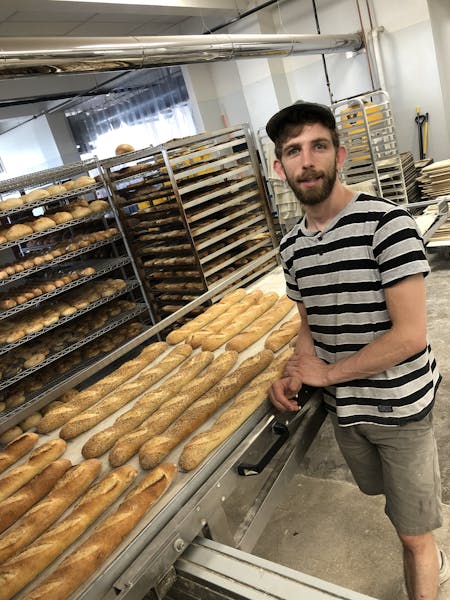 Tell Pete Merzbacher that he can't do something, and watch him thrive. Case in point: when people said starting his own bakery was a crazy idea. Where would he get the money? What did he know about fresh bread? How could he keep working his day job to pay the bills? The answers were simple: Pure hustle.
Pete started his company Philly Bread (soon to be called Merzbacher's) in 2013 while working as a line cook at a popular Philadelphia restaurant. After his shift ended and the cooks cleaned up the kitchen, he would bake fresh bread, including a round English muffin that he would dub the "Philly muffin." In the beginning, he gave away product, but soon started gaining a few paying clients. For a few months, he'd rent out a pizza shop kitchen in West Philly. Finally, he revived a defunct real bakery in Olney and had the heavy duty equipment to really make a run at this. For the next four years he was a one-man-show who lived and worked at the bakery. He milled the flour. He baked all products. He made all the deliveries.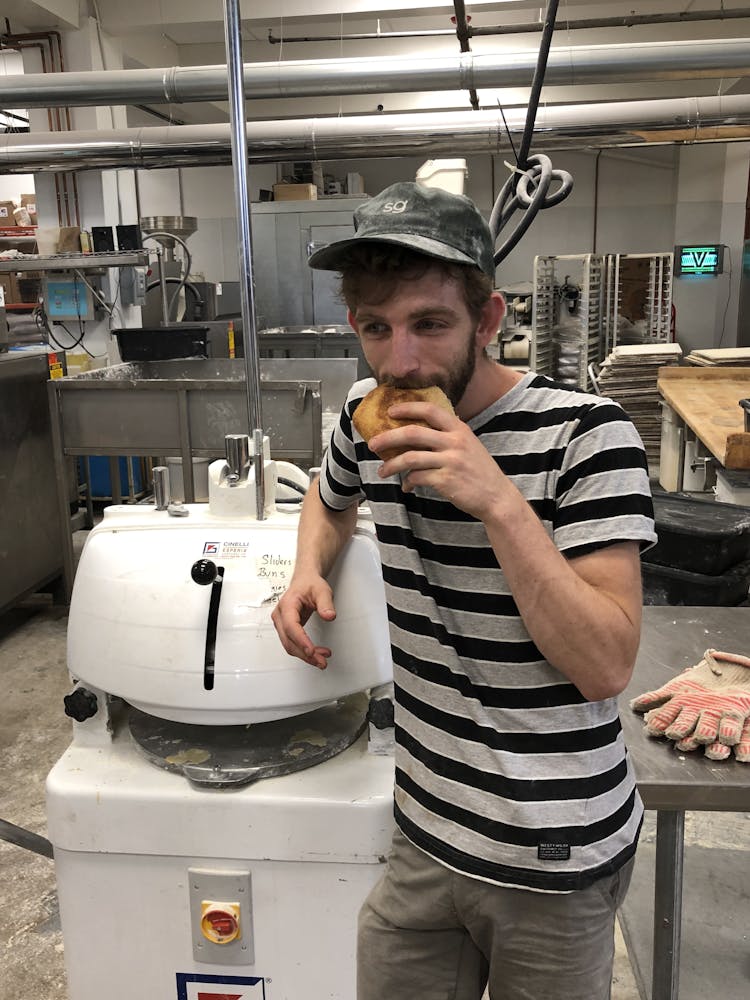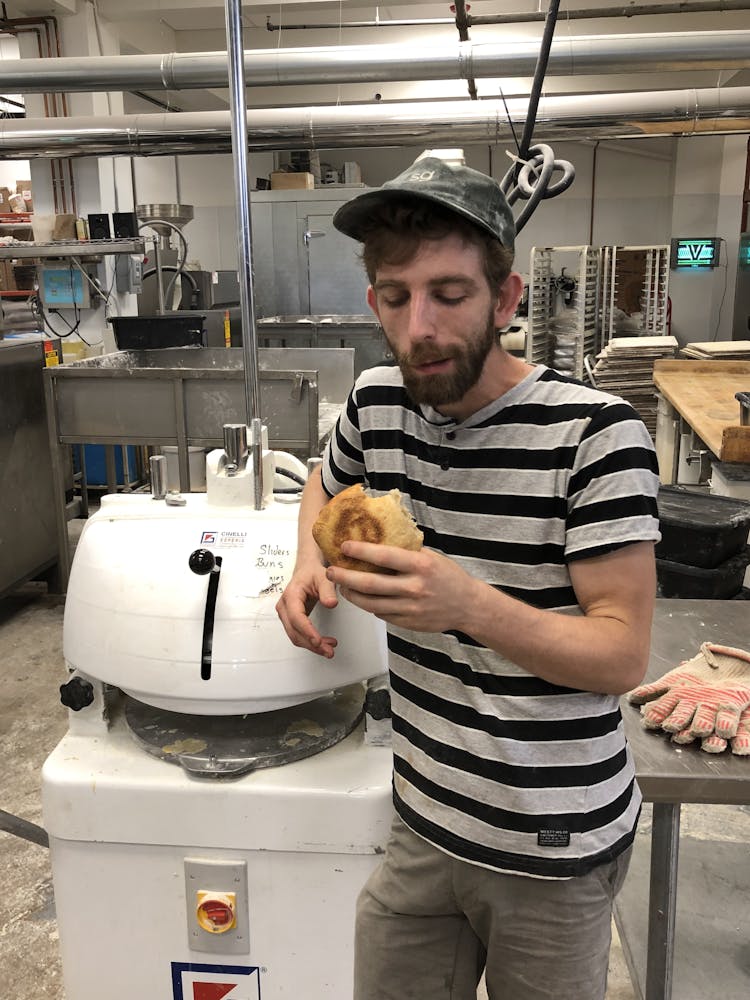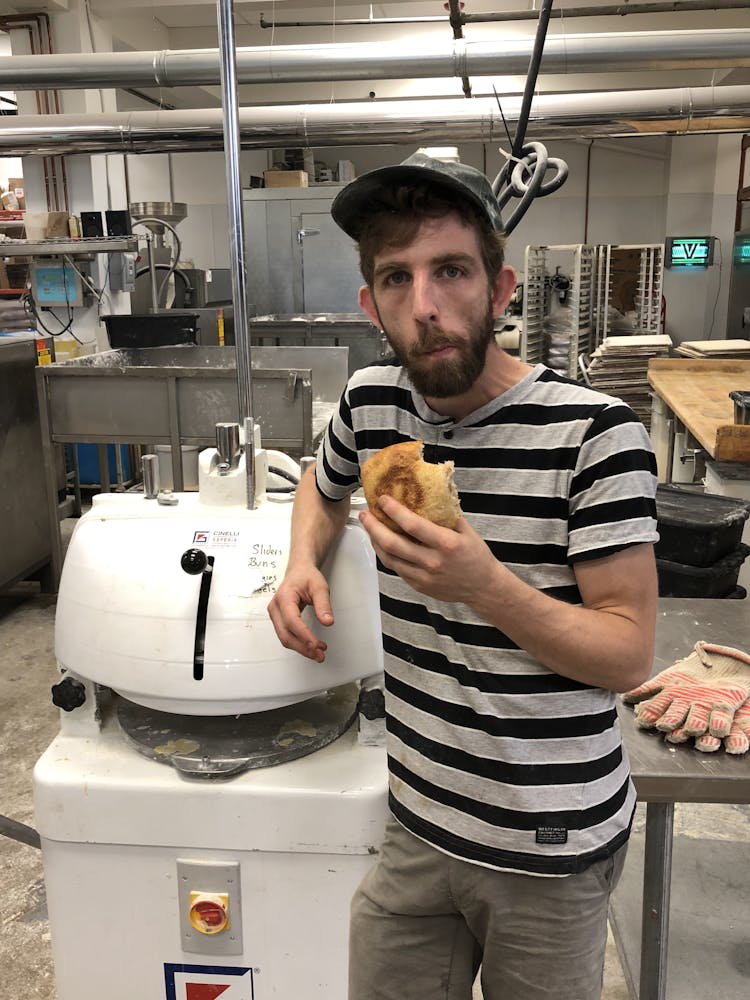 He recently moved the operation to an impressive new bakery on Germantown Avenue in up-and-coming the Wayne Junction neighborhood, where he's cranking out baguettes, sweet potato rolls and of course, his signature Philly Muffin.
At Saxbys, we love hustle and we love great bread. So we teamed up with Pete to provide bread for our new line of sandwiches coming soon to all Saxbys cafes. Not only do we love sharing our food with guests, we love sharing the people behind our food. So we sat down with Pete for a quick interview:
Why bread?
It's a staple pleasure that everybody loves. I read a book called My Last Supper where 50 chefs are interviewed about what they'd pick for their last meal. And lots of them said "bread." Bread and olive oil. Bread and butter. Why is that? Why aren't they asking for some insane whipped foie gras with aged balsamic? There's just something about bread.
What was the first great bread you ever ate?
I have really great memories of being a college student and eating my first really good piece of bread. It was from a bakery that used local grains, natural fermentation and cooked it in a wood-fired oven. I remember taking the Pioneer Valley Transit Authority bus 30 minutes to Northampton to buy this loaf and on the ride home eating until my stomach hurt.
Is bread ready for a "craft beer" moment?
Definitely. People approach beer differently than they did 30 years ago. They approach coffee differently too. You can go down the list of any food category. Cheese, wine, beer, chocolate, ice cream, tomatoes. What about bread? Can you name different types of wheat? It got me thinking, "what if I can make bread the way craft brewers make beer?"
Where did your entrepreneurial spirit come from?
I've always had a pretty intense optimism. It doesn't matter how many times I get completely obliterated by something, I just say "okay, I messed up. Let's try that again." When I was a kid, I got a CD burner and made CDs for people. I was president of my high school class and raised so much money that we paid half-price for prom tickets. I designed my own major in college. Whenever I've done things differently, I got rewarded for it. That gave me the confidence to start my own business.
Why did you choose to partner with Saxbys?
Saxbys is an ideal customer. They are just that perfect size customer for me with the perfect set of values. They're based in Philly. The management team is young. I want to provide something of value to my community. I want to enjoy going to work everyday and work with great people. Saxbys operates the same way. I bet there are ways Saxbys could cut corners. But they don't. There are ways I could cut corners but I don't. We both are approach business in the same way and that's really meaningful.
What are your plans for the future?
There will always be two parts of the business. One local-centric and one that's growth-oriented. One approach is to become the high-end English muffin manufacturer in the country. Our Philly muffins ship well and travel well. But I still want to be producing fresh bread daily and it doesn't make sense to ship our baguettes or bagels to Chicago. So the strategy is to produce bread for large audiences but still be known for caring about the crust of our baguette and sourdough loaves — and you'll have to come to Philly to try them.