Passing the Latte: Caitlin Hoos Ready to Lead Saxbys West Chester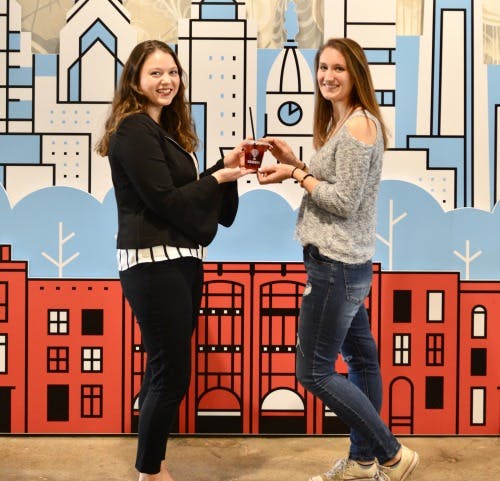 Caitlin Hoos has studied business management in the classroom. Now she's getting hands-on experience that's crucial to taking her career to the next level. The junior at West Chester University will spend the next six months leading Saxbys West Chester, where she'll not only get real-life business experience but also earn college credit and competitive pay.
Caitlin is the latest Student Cafe Executive Officer (SCEO) at Saxbys, responsible for team development, community leadership and financial management. We caught up with Caitlin shortly after she began her tenure to find out what she has planned for the cafe.
Overview
Are you excited for the position?
Of course! I love the idea that it's my cafe! I have a lot of say in what goes on. I'm only 20 yrs old and I'm running a cafe. It's crazy. I have yet to wrap my mind around it.
Did you get any advice from Kelly Ingram, the previous SCEO?
She trained me in so many ways. She even gave me a list of common questions to expect. She also told me that I can't always say "yes" to folks in the community or team members — and that's okay. She told me to stay calm, don't stress out and everything will be okay.
Team Development
What are your thoughts on the team you're inheriting?
I'm lucky because my team feels like a family. I have five team members who are not working right now but are still sitting in the cafe hanging out. On the business side, everyone knows what they're doing and many have been with the cafe from the start. I'm pretty set.
How do you plan to build a culture based off your leadership style at your cafe?
I'm going to try to work on communications between team members — especially between the folks who open the cafe and the ones who close. I'd love to have the night and morning staffs switch shifts once or twice so they can better understand the issues each team faces day-to-day. Overall, we have more than 30 team members and they all don't know each other yet. I want to make sure people are interacting with one another regardless of when they're scheduled to work.
What obstacles are you preparing for?
Scheduling. Everyone wants more hours but I can't always give it to them. So I try to make sure everyone is sharing and I'm fair in that process and alternating between team members.
Community Leadership
Do you have any community initiatives planned?
We have an exciting event in March benefitting the student recreation center and nutrition department. They'll be promoting our smoothie the Daily Grind because it's nutrition month. Some of our proceeds are going to the West Chester food pantry. Personally in the cafe, I'm going to invest in a bulletin board and put it in a prominent place so people can post flyers or business cards about events, groups or meetings around town. We also have plenty of events planned with groups on campus, from marching band to crew.
What kind of impact do you think your community leadership will make?
I think it's going to be a game-changer. Starbucks is our main competition on campus and a lot of guests tell me that our cafe feels more welcoming because team members are happy and committed to working with the community. The events will enhance that even further and make the university community aware of us even more.
Financial Management
How do you plan you manage and understand your profit/loss statement (P&L)?
I'm not really great on financial stuff just yet. Kelly even left me a "things to do" list to get me on track. I love looking at the reports, I watch our labor costs vs sales all day. I also like analyzing the differences from month-to-month. Since we've only been open for less than a year, we still have some benchmarking to do. So I like to see if our ticket sales are higher or more people are coming to the cafe.
Final Thoughts
Do you have any other initiatives planned?
I made a suggestion box so team members can get more involved and offer their opinions. They know more than me, and I would never neglect that. We also have a board with a list of items we need to order, so I tell them that if they notice anything we need, just put it right on the board. People have really good suggestions.