Passing the Latte: After Booking Heavy Metal Concerts, Chris DiCriscio is Ready for the Saxbys Challenge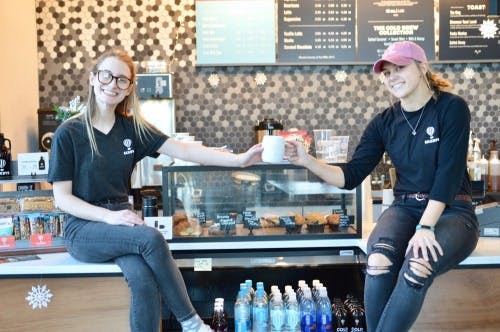 When picking a new Student Cafe Executive Officer, we couldn't pass up the chance to work with Chris DiCriscio. Not only does the 21-year-old marketing major from Cherry Hill, N.J. exude positivity and obvious leadership skills, she has a truly unique work history. In fact, Chris ran a local music website and, at the tender age of 16, booked a show with some local bands. After that, she was hooked, booking shows and tours with indie bands, rock bands, spoken word poets and even went on tour with a metal band.
These days, she's putting her management skills to work at Saxbys, running all aspects of the Saxbys La Salle cafe. She'll spend the next six months earning college credit and a competitive salary while becoming a leader in team development, community leadership and financial management.
It's a major step for Chris but she's up for the challenge. She chatted with us shortly after starting the SCEO program and explained why she already loves her team, how she aspires to work at a record label one day, and why she couldn't wait for her turn to run a Saxbys cafe.
Overview
How did you get the gig?
I was an external hire and when I applied to be just a little barista, Sydney from recruiting encouraged me to apply for SCEO. Once I learned about the company mission and values I was obsessed.
What do you hope to achieve as SCEO?
The cafe was just established last year so my main goal is to spread Saxbys throughout the La Salle campus and become a part of the La Salle community.
Are you excited?
I'm so excited. I feel like I have more ideas everyday. I want to run a lot of fun events. I've talked to a few clubs and I'm trying to get them to have their meetings with us.
What are your career aspirations?
My overall goal is to become a marketing officer for an art or music based company. Maybe that's doing marketing for a record label or something in art industry. That's where I'm heading.
How does this role at Saxbys prepare you for your eventual career?
The role at Saxbys is preparing me for any career. It's teaching me so much about not only operational standards but how to build a team. It's teaching me so many life skills I'm going to use eventually in the future.




Team Development
What are your thoughts on the team you're inheriting?
I love my team so much. They make me laugh. They teach me so much about the cafe. It's really great to hear their perspective on things because I can look at it from a higher level, operational point, then get their advice and learn how my ideas can make things more efficient for them.
How do you plan to build a culture based off your leadership style?
My leadership style is very caring. It's a mix between a mom and a boss. I want to make sure the team and community feels welcome. Instead of it just being a business, I want to become a quintessential part of a community — not just a place to buy coffee and leave. To get to that point, I will continue living by the core values, and care personally and communicate openly.
How do you plan to manage people the same age?
That's a very interesting dynamic. I still consider myself a team member rather than someone who works above them. I find that by working alongside my team and being hands-on breaks down that weirdness. Plus, it makes them more comfortable with me. Overall, I want my team to trust me. I want my team to know I'm there for them and there with them.
Community Leadership
What ideas do you have to become a community leader?
Throwing open mic nights. Given my past in music that's something I really want to do. I'd also love to get clubs and organizations, maybe fraternities and sororities, linked up with Saxbys. On the philanthropic side, I'm still working on ideas but I'd love to have some kind of event where guests can round up their bill and donate to charity.
How will becoming a community leader impact your cafe?
It will affect the cafe in good way. It's not just a business. It's a part of the community that will be contributing time, making donations and running events. By being a community leader I am confident that I will be able to foster a positive environment and make positive changes in and around La Salle.
Financial Management
How did you plan to manage and understand your P&L?
When I was a manager at Hot Topic, I did financial management tasks so this isn't totally new to me. Doing it on a much larger level and doing it at my own cafe is different. I absolutely love the challenge. As I keep working at it, it'll become easier.
How will you keep your team members accountable for managing costs day-to-day?
Honestly having team members understand the bigger picture helps them stay on their own track. If they understand why I'm making a certain initiative — like focusing on less waste for example — it'll make more sense to them and they'll follow my lead.
Final Thoughts
How excited are you to get started?
I am beyond pumped. I was counting down the days until this semester began waiting for my chance to get started as SCEO. Now that I'm here, it feels amazing. It feels like home.