Meet Ruby: The Fourth Chocolate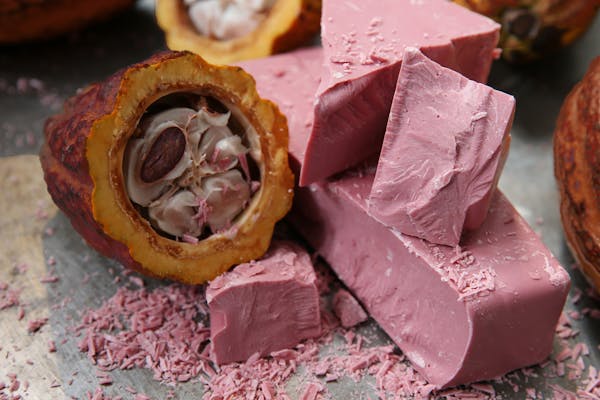 Yes, you read that right — there's a new type of chocolate in town. A close cousin to white, dark, and milk chocolate, Ruby chocolate is an eye catching rosy pink, with a creamy consistency and berry-forward tart flavor. It's also the first new natural chocolate to debut since Nestle introduced white chocolate in the 1930s. Mind blown? Us, too.
While Ruby chocolate has made waves in Japan and Australia, it recently made its way to the United States and is poised to become the next food craze. Ruby highlights Saxbys' winter menu featuring a decadent Ruby Hot Chocolate, a smooth and balanced Ruby Chocolate Matcha and a protein-packed Ruby Raspberry Greek Yogurt Parfait.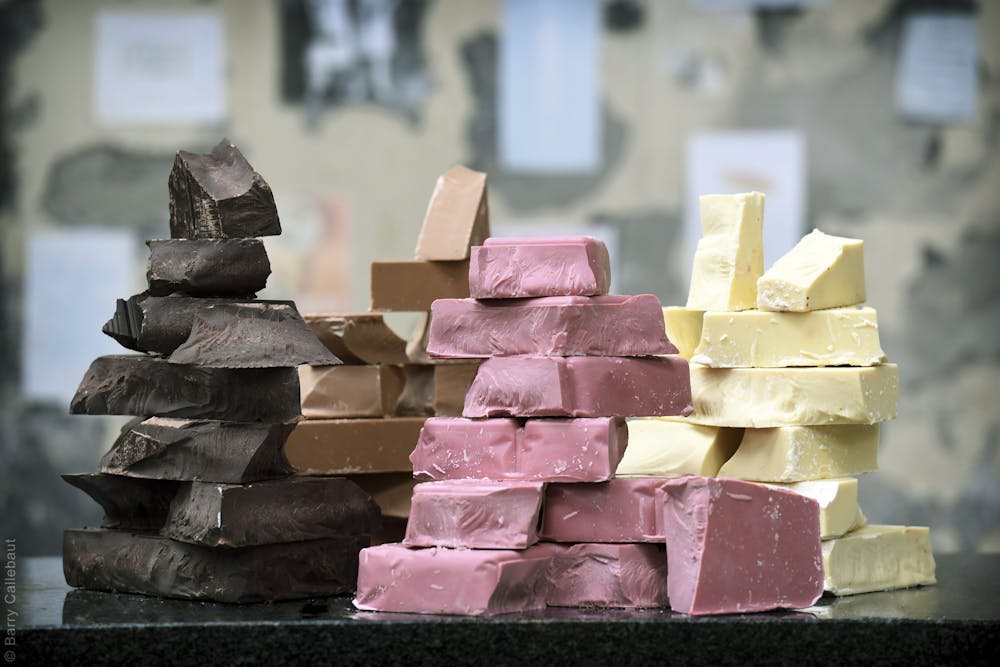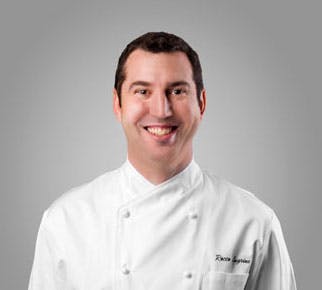 Who can we thank for helping bring Ruby to America? Rocco Lugrine, East Coast Technical Advisor at Barry Callebaut, the world's leading manufacturer of high-quality chocolate and cocoa products. The long-time chef is traveling the country teaching people how to create Ruby pastries, bars and drinks, and served as a great resource and inspiration to the Saxbys culinary team as they learned how to transform Ruby into even more irresistible renditions of itself. The general consensus around the office? We'd be happy to taste-test Ruby chocolate all year long.
We caught up with Rocco to learn more about the (pink!) chocolate we can't stop eating, Instagramming, and sharing with friends.
What is Ruby and how does it differ from other types of chocolate?
It's the fourth type of chocolate. It's got a different flavor, different texture, different color than traditional chocolates obviously. The flavor is unique. It doesn't have that bitter taste. It's a little bit fruity and a little sour at the end. And it's natural. There's nothing added to it.
Where does Ruby come from?
Ecuador, Brazil and the Ivory Coast.
Are the cacao pods pink too?
Open up a pod you will see the beans which are covered with white musieleage — a jelly-like substance on the outside. But when you break them open, inside the bean itself there are different colors. We went to a plantation last year and some beans are naturally purple — which is where Ruby comes from.
Do you think Ruby will catch on around the world?
It's already incredibly popular in Japan and parts of Europe, so I think it'll catch on here eventually too. Remember, when white chocolate was launched, people didn't know what it was at first. But today it's normal.
Chocolate traditionally pairs well with vanilla, peanut butter, and caramel. What pairs well with Ruby?
Ruby pairs well with citrus, vanilla, florals, fresh almonds and certain teas, like butterfly tea.
Editor's Note: At Saxbys, we've paired house-made Ruby ganache and steamed milk to create our Ruby Hot Chocolate. Feeling a little more adventurous? Give Ruby a shot with 100% organic matcha tea from Matchaful in our Ruby Chocolate Matcha (available hot or iced).
Why is Barry Callebaut partnering with Saxbys to bring Ruby chocolate to the world?
Saxbys asked for some education on Ruby. Saxbys wanted to keep it pure, highlight its best attributes and collaborate to create the best products possible. I worked with the Saxbys team to help them create some really terrific offerings, like the Ruby Hot Chocolate. Plus, it's a great company and everybody has been really great to work with. We're very excited to have Saxbys help introduce more people to Ruby.