Meet Chris Rossi, University of New Hampshire CEO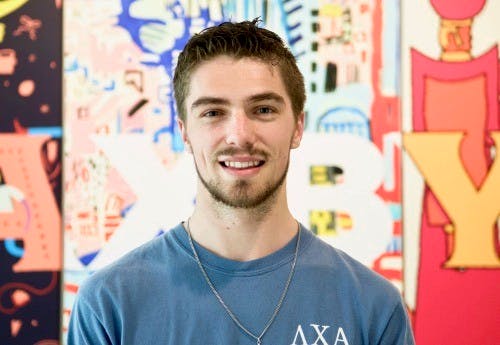 Chris Rossi is destined for a great career in hospitality. He's worked in hotels since high school. He majored in hospitality management at the University of New Hampshire, and now he's the Cafe Executive Officer at the Saxbys cafe on campus. He loves the entrepreneurial opportunities he gets at Saxbys, really enjoys helping people, and certainly doesn't miss the late nights that come with hotel life.
We caught up with the Portsmouth, N.H. native to learn a bit more about his experience at Saxbys:
Are you enjoying Saxbys life better than working in hotels?
In college and even in high school I was working at the Sheraton Portsmouth Harborside Hotel. I worked my way up to become the supervisor of the front desk. I was interviewing for a bunch of different positions at hotels and thought that's what I wanted to do — but after I learned about the career trajectory at Saxbys, I got more excited about that position. With hotels, I was tired of working every single holiday not making my own schedule. Saxbys offers a better work/life balance where I'm able to see family a lot more often. It actually closes in the evenings too, which is really great! Before, I'd get random calls at 3 a.m. and I'd have to drive over to the hotel to handle it.
What are some specific things you're learning at Saxbys that you didn't learn at other jobs?
Financials. The weekly financial reviews have been very helpful for me. I was never very good at accounting and this has opened my eyes that I can do this. I understand everything now. The training was great, they walked us through every step in the process. I'm not sure other companies would have taken the time to sit down with each individual team member and describe how everything really works. It was great.
What's it like leading a team of people who are basically the same age?
Getting people to trust you and respect you is more difficult when you're basically peers. What I recommend is to stay by the book as much as you can. If you have Saxbys HQ and manuals backing you up, you can't go wrong.
What are your career aspirations?
I want to play a role in opening cafes or becoming a coach at some point. Being a coach and overseeing a region of cafes is what I'd love to do.