Leading Saxbys West Chester is Like Business School Come to Life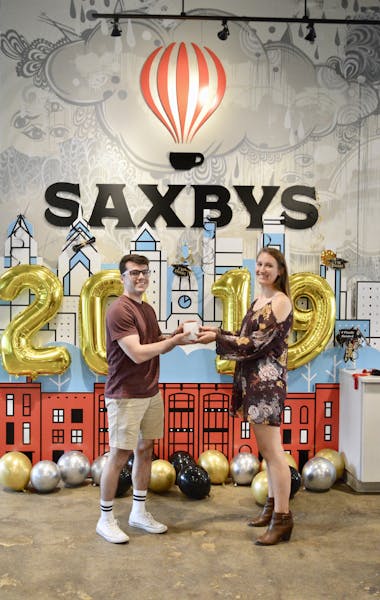 James Gallagher is only 21. But he's getting work experience that most people his age (or five-to-10 years older) don't have access to. He's developing a team. He's working with the community. He's managing financials.
It's all happening at Saxbys West Chester where James is serving a six-month stint as Student Cafe Executive Officer through our Experiential Learning Program. It's a big move for the Allentown, Pa. native and should be a major step forward in his eventual career in business.
We sat down with James to talk about how running his own business as the SCEO of Saxbys West Chester is like business school come to life.
Overview
What do you hope to get out of being SCEO?
I hope to get a lot of experiences I can't learn in the classroom. I really want to learn how to manage my peers and everything else that comes with running a business. You really don't know some things until you do them — which is the greatest thing about this position.
What are your career ambitions?
I'm still figuring that out. I really like the environment Saxbys has created. I like working in the cafe because it gives me hands-on experience working with guests and team members every day. I'm also interested in the admin side of things like marketing or accounting. There aren't many parts of working in a business I don't like, so I'm trying to keep an open mind for when I graduate.
How does this position prepare you for your career?
This prepares me for almost every aspect of business. I see all the numbers that make everything tick — like sales numbers, cost of goods sold, and operating expenses. I'm also at the center of all marketing campaigns, have the freedom to do my own community involvement and am responsible for balancing all financials. It really is an amazing blend of all the divisions of a business.
Team Development
How are you building a culture based off your leadership style?
I really like working with people. That's come a little more naturally to me than some things I don't have as much experience with. I really like connecting with my team and working to help them improve and move them up the ladder.
What obstacles are you facing in developing team members?
One of the toughest challenges is not being able to move someone up to next position when I want to. Maybe we can't afford that in our labor budget. Or sometimes you have to fire people or make other tough decisions. Since I work with them everyday, it's a much more personal decision.
Community Leadership
Are you excited to create events that serve your community?
I'm really excited about community leadership. Being on a college campus, there's so much opportunity to get yourself and your cafe involved and integrated into campus life. I think it would be really cool to get different groups doing different events at our cafe. I'm thinking about music or art events that will get a wide variety of people coming into our cafe and help our team make connections outside the cafe.
How will becoming a community leader impact your cafe?
West Chester really appreciates a business that feels integrated with the community. They love the small business feel. A cafe is a perfect place to capture that community feeling.
Financial Management
How are you working to manage and understand your profit/loss (P&L) statement?
I want to be able to maximize profits and minimize the costs we have to endure. I'm starting to see the impact of what we're doing. When ordering products, I can see the impact on cost of goods sold — where that hurts us or benefits us. I also see the impact of using things more efficiently. Also labor management too. I don't want to have way too many people on shift because that hurts our labor budget. I want to strike a nice balance.
Final Thoughts
How is the real-world financial experience you're getting at Saxbys different than learning it in a classroom?
The difference is that you care so much more. When you're in a classroom, you can go over examples but it doesn't affect you in any way. In a classroom you don't see exactly how decisions affect the numbers because you're learning through pre-set scenarios.