Creating a Collaborative, Transparent Culture at Saxbys West Chester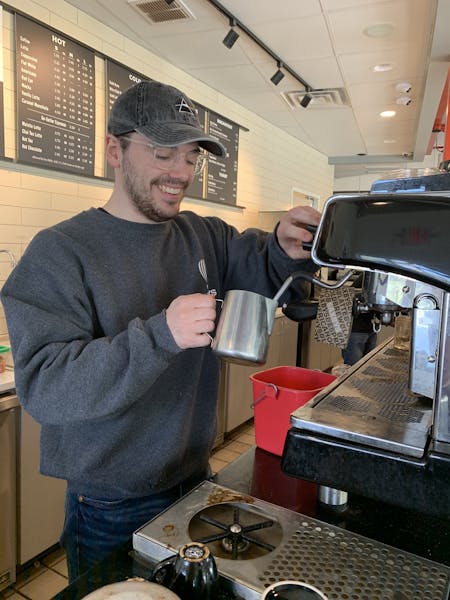 James Gallagher's six months as Student Cafe Executive Officer at Saxbys West Chester felt like business school come to life. Classroom lessons about team development, community leadership, and financial management are valuable — but being empowered to make strategic decisions day-after-day in the real-world drove those lessons home.
In his studies, he learned that happy, cohesive teams perform better, so he made sure to create a collaborative culture in his cafe where open communication was the norm, and team members felt empowered to ask questions and take meaningful actions. It led to a friendly, fun, transparent environment with a unique vibe that clearly rubbed off on cafe guests.
James enjoyed his experience so much that he's staying on for another semester as Operations Specialist — responsible for coming up with and completing specialized projects at various cafes that will help improve efficiencies.
We sat down with James to learn more about his SCEO experience:
Intro
How would you describe your experience as SCEO?
It's everything I learned in the classroom in real life. After talking about different management styles and best practices for managing people, I got to actually work with 25 unique team members. It's just one example of how this experience taught me more than I could have learned with a textbook only.
How is this internship unique from others?
This is one of the rare internships that provides the experience of leading a team of your peers while learning about invoices, ordering, administrative tasks, and how to build relationships with a wide variety of people — from the team at Saxbys HQ to the community we served. I'm sure there are other great internships out there, but this is one-of-a-kind.
"I'm sure there are other great internships out there, but this is one-of-a-kind."
Team Development
How did you build a culture based off your leadership style at your cafe?
I definitely wanted to build an atmosphere where my team was comfortable talking to me about things — whether they were nervous, excited or just had questions. I feel like I established that atmosphere early on, which really helped team development. The more people were comfortable working with me, the more likely they were to be interested in growing their responsibilities in the cafe. I had a lot of really hard working team members move up the ranks. The atmosphere I facilitated helped that upward mobility.
What was the most rewarding aspect of developing your team?
Watching the team members go through the training process, learn new things and start doing them on their own. Whether they were preparing their first few invoices or doing inventory on Sunday afternoons, watching them put their training to use in the cafe was pretty cool.
What was a major obstacle you had to overcome when it came to developing a team member?
There were more people that wanted to get promoted than I had the capacity to develop. One of the hardest obstacles was deciding who was ready to move up. It meant having tough conversations with the team members that didn't get promoted and explaining what they could do in the future to get to that level.
Community Leadership
Tell us about a community initiative you executed at your cafe?
We were able to tie a community promotion to Free Coffee Week. When we launched our roastery coffee, we gave out free coffee for an entire week. At the same time we let the Dowdy Multicultural Center put stickers on our coffee cup sleeves to promote a conference on race, social justice and civic leadership. That simple gesture gave them a ton of exposure, especially because the free coffee brought a lot of new guests to our cafe. It was a low effort initiative that reached a large amount of people.
How did becoming a community leader impact your cafe?
It impacted us in a lot of ways. Exposing more people to the cafe drove new sales. But we wanted to be involved in the community regardless of whether it impacted us financially. We wanted to Make Life Better around our cafe and make a meaningful social impact.
Financial Management
How did you work to manage and understand your P&L?
That was a heavy subject. Unless you've had a management position before, it's not something you'd be very familiar with. That was the case with me. I was never in the position to see sales breakdowns, profits/losses, costs and revenues. At first, it was a little overwhelming because there were so many actions I could take to make sure the numbers were strong. It took a lot of trial-and-error to reduce costs, schedule the team efficiently and maximize sales. In the end, we increased sales vs. the previous year and made sure the numbers were trending in the right direction.
Final Thoughts
What's one of the biggest lessons you learned?
Time management because there are so many different tasks I had to complete every day. From scheduling to ordering to invoices — and that doesn't even include making drinks behind the bar or food in the kitchen. I needed to be able to manage my time to get everything done.
Although you're undecided about your eventual career, how do you think this experience will help?
It helps in a lot of ways. Most internships don't have you leading a group of people this early on. That's an experience most people graduating college won't have. It sets SCEOs apart and gives me a different perspective on management. Now, I understand the "hows" and "whys" of managerial decision making — and that will make a tremendous impact on my future career.