How a Personal Approach Helps Abby Jordan Get the Most From Her Team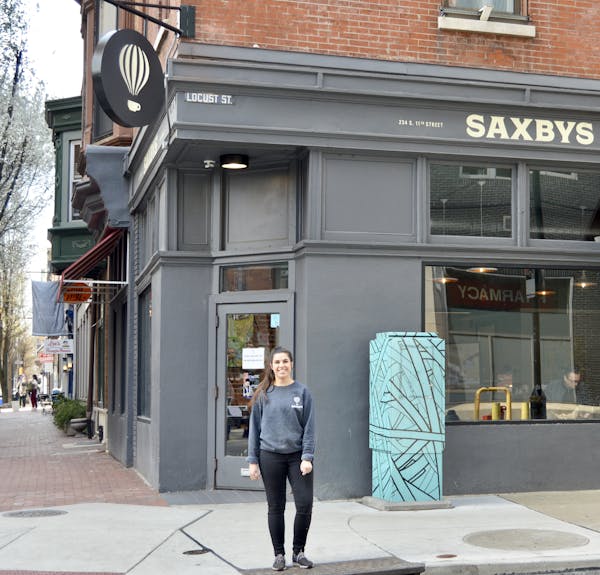 Since January, Abby Jordan has transformed from student to entrepreneur. For six months, the Temple University senior has been serving as Student Cafe Executive Officer at Saxbys 11th & Locust in Philadelphia. She's in charge of developing her team, working with the community, and managing finances in her cafe. It's a big job for a 21 year old, but Abby is up for the task (and killin' it!). She's already learned the ropes by working at multiple Saxbys cafes and even helped the Eagles, Sixers, and Flyers run large events. In her free time, she serves as president of the Irish Dance Team at Temple.
Abby is aiming for a long career in recruiting in the tourism and hospitality management — and has already secured a job after she graduates as the Cafe Executive Officer at our Saxbys Temple Fox cafe! She's been such a dynamo over the past two years that hiring Abby full-time was a no-brainer.
We caught up with Abby midway through the program to learn about how she's managing a team of people her own age and why she loves being entrepreneurial.
Overview
What have you learned from our Experiential Learning Program thus far?
I'm learning how to run a business essentially. I like that it's not only hospitality but I get to learn a lot of aspects like financials, ordering, scheduling, and people management.
What drove you to choose a career in hospitality?
I really love traveling so I went into it to see if I can travel more. I have always worked in the service industry — and I enjoyed it, even though it can be hard sometimes. I really like interacting with people.
Team Development
How are you building a unique culture in your cafe based on your leadership style?
It took some extra effort because I never worked at this cafe before and they had a CEO for a while before I came on board. That's why I really take advantage of O3s — one-on-ones — with each team member. Talking to everyone individually helps me gain my team members' trust and lets them know that if they need anything, I'm here.
What is the most rewarding aspect of developing your team?
When I see them get hit with a rush — and come through it with smiling faces — I get really happy. Also, watching them grow closer to me has been rewarding. They're starting to get to know me more and they're getting much more comfortable with me and my management style.
What is one major obstacle to developing your team?
They're all generally the same age as me. The oldest is 23 and the youngest is 19. It was a little difficult in the beginning to help them realize that I may be the same age as them but I'm still the CEO. Managing peers is a little difficult but I've been earning their trust day by day and it's getting much easier.
Community Leadership
How do you balance the best interest of your team while contributing to the community you're serving?
My cafe is located near Thomas Jefferson University, so most of our guests come from Jefferson. Our previous CEO did great job of connecting with the Jefferson community and I'm keeping that going by supporting in any events that align with the Saxbys mission. I also held an event here in February called Be Free, essentially an open space for people hang out and talk about anything they wanted.
How did becoming a community leader impact your cafe?
It just shows We Are a Community Serving our Community. If we're here to support them they'll come here and support us by buying our food and coffee. We have a lot of regulars, so staying connected with them and talking with them everyday keeps them coming back. As a team, we get excited when a regular comes in and we know their order by heart.
Financial Management
How did you achieve mastery to manage and understand your P&L?
I work with my coach, Abby, as much as I can. (We have the same name, how funny is that?) She provides feedback on my weekly financials so I can understand them more and improve. I'm becoming aware of how they're affected by day-to-day activities. I'm showing the team the lessons I'm learning — like how reducing waste can really make an impact.
How do you manage your baselines and how much you're ordering?
I'm working hard on that. As weather changes, for example, I'm working with my team and coach to figure out if we need to order more Cold Brew because it's getting warmer outside.