Entrepreneurship and Creativity Go Hand-in-Hand for Our Newest SCEO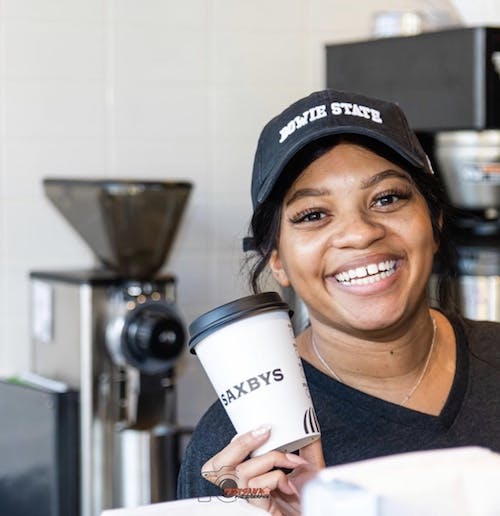 For Danae Stewart, entrepreneurship is freedom. Freedom to be creative. Freedom to think for herself. Freedom to make decisions that have a real impact.
That entrepreneurial mindset led the Bowie State marketing major to become president of the school's Entrepreneurship Academy and launch her own business as a makeup artist.
For the next six months, Denae will get a crash course in entrepreneurship as the Student Cafe Executive Officer of Saxbys Bowie State. She'll be in charge of developing 45 team members, interacting with the community, and managing finances.
She hopes the Saxbys experience will jumpstart a career of working for herself. After graduation, she has a number of business ideas up her sleeve. Perhaps a real estate business. Perhaps creating a boutique space where young makeup artists can work with clients. Perhaps running a few businesses at once.
We sat down with Denae to get a sneak peek at how she's approaching her new job at Saxbys:
Intro
What intrigues you about entrepreneurship?
It's freedom. I get to be as creative as I want to be. I have the chance to do something I love every day. I don't want to wake up every morning dreading going to work. I want to live a happy life and be excited to work everyday. I don't want to have any regrets.
Team Development
What kind of culture do you plan to build at your cafe?
I want to make the cafe a second home to our team members. That's especially true for our commuters. Even when they're not working, I want them to feel comfortable sitting down, get their coffee and relaxing before their next class. I want everybody to know they can be themselves in a place where they feel welcome and wanted.
What team development obstacles are you preparing to tackle?
Balancing everyone's personalities can definitely be a challenge. It'll take strong communication skills to make sure all my team members are getting along and we have a peaceful, collaborative atmosphere. It's on me to make sure I talk to people the right way. I won't just talk about what a team member is doing wrong; I'll recognize them for doing good things too.
Community Leadership
How are you planning to contribute to the community your cafe is serving?
I know that a lot of our team members are part of other organizations, so I want to see if we can help them organize some events at the cafe. That won't just help the community; it'll help me build relationships and trust with my team members because they'll know I care about what they're doing outside of the cafe too.
Financial Management
How do you plan to tackle the task of mastering the nuances of your profit/loss statement?
I am a business major so I have some background in accounting and economics classes. I also have good relationships with my professors if I need them for any advice. I can always reach out to other CEOs or my Coach at Saxbys if I need help. I feel pretty confident that with all those resources, our finances will be in a great place.
Final Thoughts
What's it like to have inaugural SCEO Devin Gallion staying on as an Operations Specialist at the cafe?
It's a relief. Anyone in my position would be a little nervous. It's my cafe and my business. That comes with its share of nerves — but knowing that I have his support is a blessing.
What advice did Devin give you?
When I found out I got the position, he started having me shadow him. He helped pre-train me before I even started. If I ever need to give him a call or text he's available. One piece of advice was to temper my big personality. He advised me to make sure I talk to team members the right way. Think before I talk and come off in a nice tone so people don't think I'm attacking them. I know that I'll be able to communicate with my team in a human way that will help them learn and keep our cafe operations humming along at top speed.