Corey Pasternak's Winding Road to Running Saxbys Penn State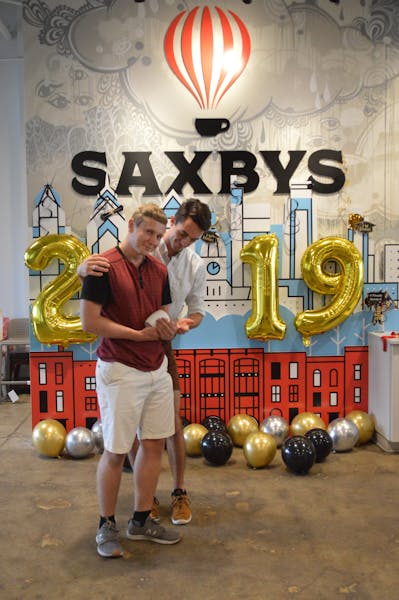 Corey Pasternak knows the value of hard work. As a kid, he spent each summer with his grandparents planting and harvesting vegetables, and selling them at the family's veggie stand. While other kids were in camp or lounging in front of the TV, Corey was spending long days working in the sun, learning how to interact with guests, and handling money.
At Saxbys, we love a person who knows how to hustle, so we hired Corey to run Saxbys Penn State as Student Cafe Executive Officer. The 20-year-old finance major will spend six months developing a team of around 90 people, interacting with the community, and managing finances. Through the Saxbys Experiential Learning Program, he'll not only earn a competitive pay and college credit, he'll get the perfect prep for a long, successful career in business.
We sat down with Corey to get his thoughts on the Saxbys experience.
Overview
How did working summers at the vegetable stand instill a hard-working attitude?
I did everything from planting to harvesting. But interacting with guests at such a young age really made the experience valuable. Specifically my grandfather was a very hard-working person, and he instilled those values in me growing up. Seeing how hard he worked definitely influences my work ethic still today.
What are you hoping to get out of being SCEO?
I'm looking for the leadership and team development aspects of the program. Being able to manage a group of 90 peers is something you just don't get anywhere else.
What are your career aspirations?
I'm still figuring out the specifics, but I want to be in a managerial position. I like being close to the product that I'm delivering and this Saxbys experience is a great example of that. A lot of times in managerial roles, you're managing people but not seeing the day-to-day operations. I really like being able to see how the operations affect the numbers. I love working with people and interacting with them on a daily basis. I couldn't do an office job where I don't interact with people.
Team Development
How are you building a culture at your cafe based on your leadership style?
It all starts with building trust and leading by example. Once that trust is established, it has a trickle-down effect where all team members start working together and trusting each other.
What has been the most rewarding aspect of developing your team so far?
One of the most rewarding parts is when I'm not in the cafe. When I can feel 100% comfortable leaving my team to do the operations and trust them fully.
Community Leadership
How valuable is it to contribute to the community you're serving?
When incoming students at Penn State come to campus, one of the main things that keeps them here is the community feel. That's what almost every single freshman talks about that. Bringing the Saxbys community into Penn State community is a no-brainer.
What are some community events you have planned?
We're still working on specifics but we're thinking about everything from catering to career fairs to branching out into major events like THON.
How will becoming a community leader impact your cafe?
It's a big responsibility to be a community leader, especially in such a large, tight knit community. Being able to hold yourself to that standard of being a leader and someone the community can look to as a role model is a little daunting but very exciting at the same time.
Financial Management
Are you excited to continue learning how to manage and understand your profit/loss (P&L) statement?
I've always been a numbers guy. I'm a very analytical person. I like seeing how the numbers look now, and how you can improve those numbers over time. There are so many different ways to analyze numbers and see how operations are affecting those numbers. It's exciting.
How are you keeping your cafe accountable to the day-to-day responsibilities in order to manage your costs?
It all goes back to training. Training the team well is not easy but once they are trained, they'll waste far less product and make the recipes as they should be made. That will really help manage costs.
Final Thoughts
What advice did you get from outgoing SCEO Rainier Foley-Defiore?
Make sure to take some time for yourself. It's very easy to get pulled into the cafe 24/7. It's a fun place to be but sometimes you need to take a step back and not overwork yourself. Six months is a long time, so hit the refresh button sometimes.