CERTIFIED B CORP SAXBYS AND UNIVERSITY OF THE ARTS ANNOUNCE STUDENT-RUN CAFE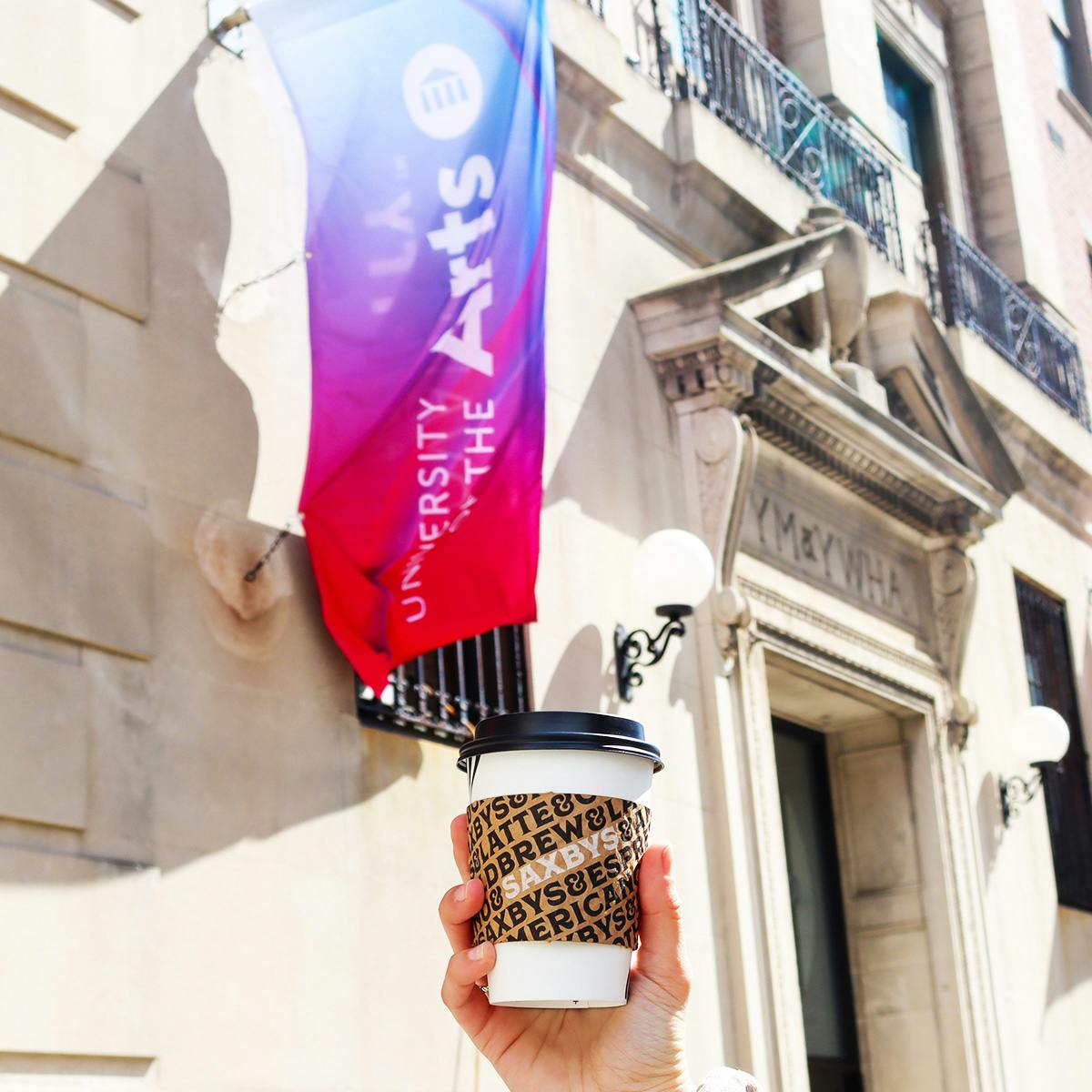 The Experiential Learning cafe blends art and business to provide a one-of-a-kind experience

Saxbys and the University of the Arts (UArts) today announced their plans for a new student-run cafe on UArts' Center City Campus, which will be helmed by Student Cafe Executive Officer (Student C.E.O.) and UArts Dance major, Kristin Vendel. With the arrival of The Saxbys Experiential Learning Platform (The Saxbys E.L.P.) on campus, UArts students will be empowered to gain real-life business and entrepreneurship experience while earning college credits and a salary.
Saxbys, a Certified B Corporation, and UArts, a leader in creative education for nearly 150 years, are thrilled to bring the platform to Broad Street, where the cafe is slated to open in late spring 2023. Located in the historic Gershman Hall at the University of the Arts, the cafe will be a bustling hub for campus life, providing student leaders with a dynamic business that presents real-world challenges and opportunities for UArts' creative community. The cafe will accompany the university's new student center on Gershman's first floor, which is anticipated to open in March.

The UArts cafe is part of a network of Saxbys' pioneering Experiential Learning Platforms, holding residence in institutions like Temple, St. Joseph's, and Rider Universities. Designed to embolden the next generation of changemakers, the platform provides undergraduates with a one-of-a-kind entrepreneurial experience as a supplement to traditional classroom learning. Saxbys' Student C.E.O.s, like Kristin, make this program even more special—these students run and lead all aspects of their cafes, from team development and community engagement to responsibility for the entire Profit & Loss statement.
The cafe was designed in partnership with students enrolled in UArts' School of Design, comprising students in the university's Graphic Design, Product Design, Illustration, and Museum Exhibition Planning and Design programs. Students, through a class led by program director Angela Riechers and designers Virginia Gehshan and Melinda Beck, worked collaboratively to ideate and polish the overarching design for the space. Through rigorous critiques and presentations, many of which included UArts President David Yager, they ultimately arrived at their finished concept of an art gallery reflective of the diversity of abundant creative talent at the university.
"The field of design is experiencing a radical and rapid transformation. To be a designer today is to engage people on all fronts, whether it's through print, online, or experiential and virtual spaces," President Yager said. "I am thrilled for the opportunity to partner with Saxbys and offer our students this challenging and real-world design experience while simultaneously providing our university community a dynamic new space. Working together as an interdisciplinary team of designers, the students have shaped one of the most compelling and creative cafe spaces on our campus."
After establishing the first E.L.P. cafe in Philadelphia in 2015, Saxbys grew primarily in the region before recently expanding to Ohio, New Jersey, Maryland, and Boston. Now with 18 E.L.P. cafes across five states, Saxbys is excited to continue growing at home in Philadelphia with UArts, bringing the platform to the heart of Center City.
"To be entrepreneurial is to be creative—partnering with the University of the Arts to open a Saxbys Experiential Learning Platform cafe on campus brings these qualities together in perfect harmony," said Nick Bayer, Founder & CEO of Saxbys. "These qualities are true catalysts for social and economic change—UArts students will hone essential power skills such as emotional intelligence, critical thinking, and resilience to build upon their classroom experience. This holistic experience will benefit them in their cafe, community, and career. We are excited to partner with UArts to bring this cafe to Broad Street, creating a destination for students and the UArts community," said Bayer.
Learn more about Saxbys and find a cafe near you by visiting hellosaxbys.com.