Mike Oraschewsky Proves That Bacon Really Does Make Everything Better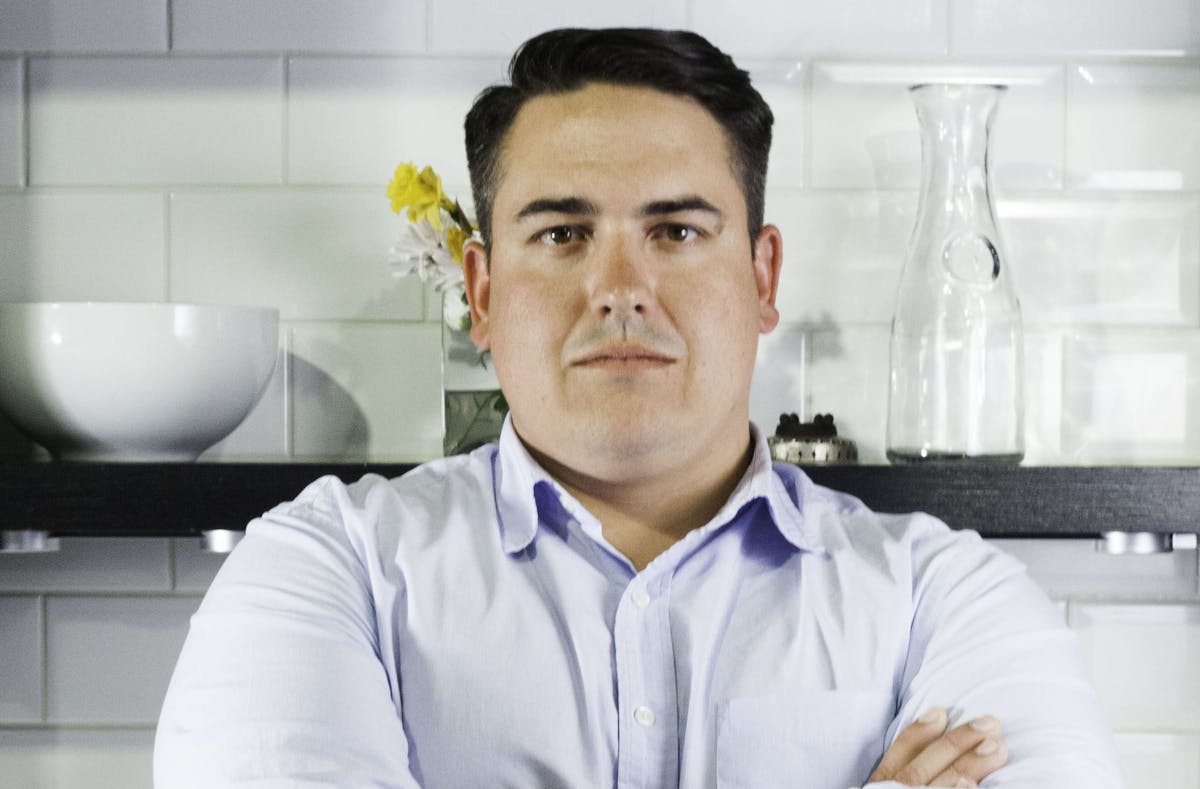 Back in 2012, Mike Oraschewsky and Bruce Kramer were each tinkering with sweet, savory bacon concoctions. Oraschewsky was developing a cult following at his Conshohocken restaurant. Kramer -- a diehard Philadelphia Eagles fan known for throwing elaborate tailgate parties -- was winning hearts and minds with his bacon jam and goat cheese-stuffed jalapeno poppers week after week.
Soon, they'd team up and perfect a recipe for bacon jam — jam infused with bacon, fried onions and spices. The affordable and addictive spread was an immediate hit at beer festivals and bacon fairs. It even became a popular holiday gift. Soon, they'd launch TBJ Gourmet, a successful Kickstarter, and sell their products in 1,500 specialty stores and 4,000 traditional grocers. At Saxbys, it's the star ingredient of the T.B.J., our Turkey & Bacon Jam sandwich with roast turkey, cheddar, tomato, and baby kale on Philly Bread MaltyGrain.
We caught up with Mike to talk about the origins of the company, his partnership with Saxbys, and why he's making a big push toward sustainable food.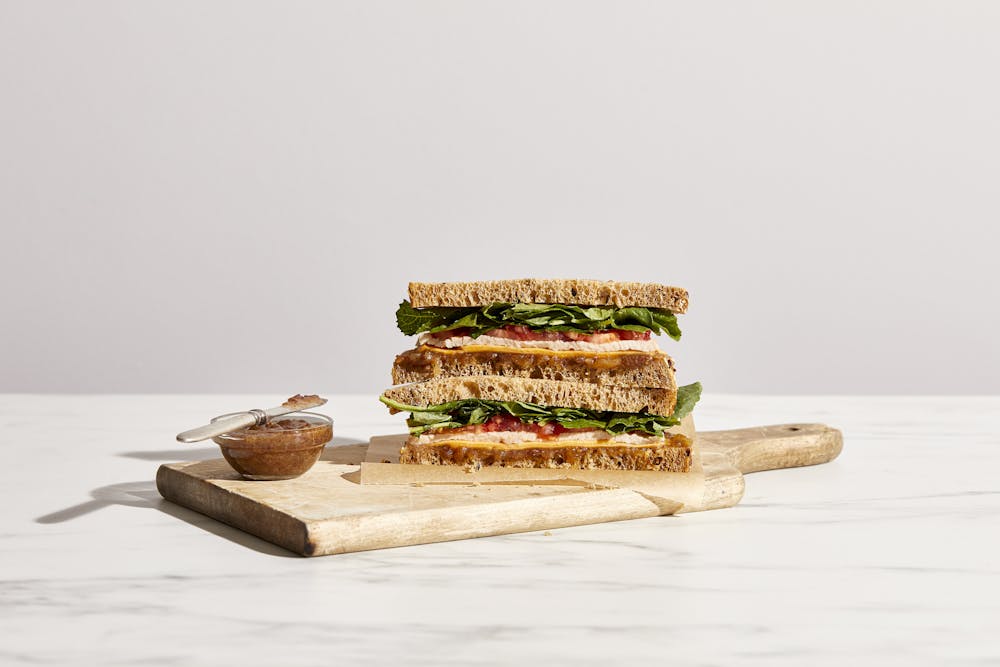 The Saxbys T.B.J. — a Turkey & Bacon Jam sandwich that's sure to make your mouth water.
How do you make Bacon Jams?
It's pretty simple. Bacon, caramelized onions, brown sugar, apple cider vinegar, and a lot of stirring. We use seasoning as well, and pectin which is a binder that comes from fruit skins. Then we put it all in a kettle and cook it for hours. After that, we put it in a jar. We use all locally sourced, uncured bacon. It's just smoked, not injected with nitrates. We believe in using only the best bacon.
How did you and Bruce become business partners?
One day this dude walks into my restaurant and said: 'I heard you're making bacon jam. I make bacon jam for my Eagles tailgate. Everyone tells me I'm crazy not to sell it. Do you want to try to sell this?' My customers loved it, his friends loved it. It was a perfect fit.
How did you start to get traction with your company?
We took it to beer festivals and bacon festivals. We drove down to Norfolk, VA to Bacon Fest and sold out of all our surplus inventory. A friend of mine suggested we sell at the Christmas Village in LOVE Park in Philly. So we scraped together all the money we made to have a presence there and we could barely keep up with inventory. I was going back to the restaurant every night and cooking. I would cook from 5 p.m. until dawn — and drive the jars of jam over while they were still piping hot.
You had an epic Kickstarter, raising more than $11,000 and gaining some serious exposure. Tell us about that.
It was in the infancy of Kickstarter, so it wasn't as jam packed, especially with food. We weren't that sophisticated on social media. Kickstarter had a thriving community and it's a relatively low buy-in for a jar. It's also just bacon, plus jam. It resonates with people.
Recently, you closed a private equity round of investment using WeFunder. How did that feel?
It was reminiscent of our Kickstarter days. Every time we'd get a new investor on WeFunder or a new pledge on Kickstarter back in the day, my phone would ping. It's an amazing feeling. I was thinking: "Yes, somebody believes in us." It's so cool to get that alert. It's nice to know that people believe in your vision.
How did you get on QVC?
Our second year at Christmas Village, a guy from QVC came by and said: "Do you want to sell this on TV?" I said, "Yeah buddy, whatever." But it turns out he was one of the original hosts of QVC. So we went on QVC and sold 60,000 of bacon jams in six minutes. That's when we started thinking about selling to restaurants and stores. I've been going on QVC monthly since 2014.
Why partner with Saxbys?
I've known [Saxbys CEO] Nick Bayer for a while. He actually gave me some advice when we were first starting to scale. For us, it's a big opportunity to align ourselves with such a strong brand. Nick has built a great company and a great team. We'd like to grow and scale in a similar way. There's a lot of synergy there. There are a lot of coffee companies but Saxbys is top notch. We're proud to be with them and happy to develop this sandwich with their culinary team. We just want to make good things. Our mission at TBJ is to help the home and professional craft perfect items and make memorable meals. Every time someone has a bite of that T.B.J. sandwich at Saxbys, we think they're going to remember it. That makes us proud.
While Bacon Jams is a fun-for-you product, you've got a very serious mission — ending food waste. Why is that so important to you?
We're focused on upcycling — trying to end food waste. Around 30 percent of the food in this country goes into the trash. Maybe it went bad, maybe there weren't enough people to harvest it. It's a major issue. In the case of Bacon Jam, we use ends and pieces of bacon that are perfectly good and delicious but don't fit in the package of the sliced bacon at the supermarket properly. So nine times out of 10, they get tossed. We partnered with Abundantly Good, which is Philabundance's retail brand. Through them, $1 from every jar of our spicy tomato jam goes to capturing surplus tomatoes to make into tomato sauce for their food bank. We want to continue to grow in that way — by taking a sustainable approach to creating unique, high quality items and contributing to the fight against food waste.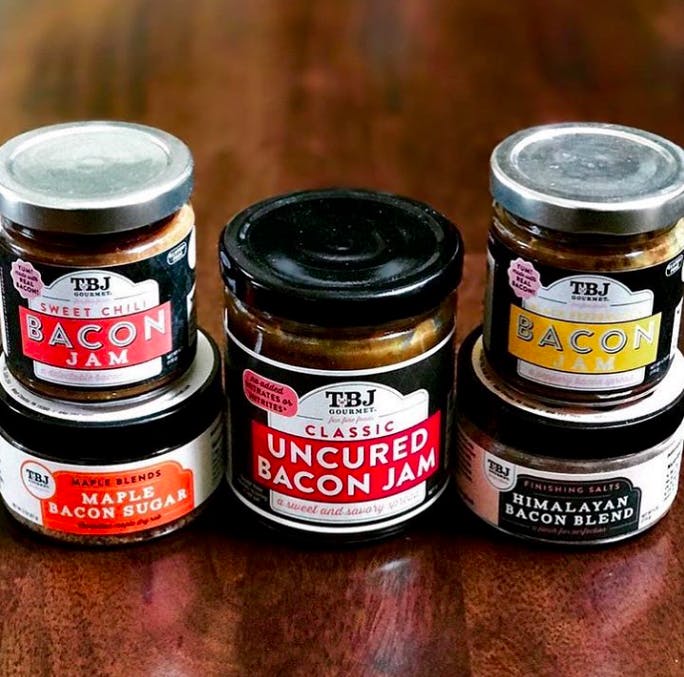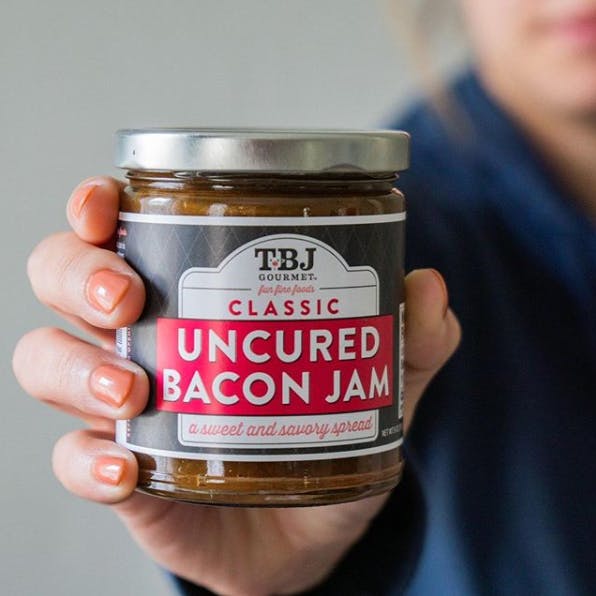 Images courtesy of TBJ Gourmet