After 6 Months as Student CEO, Talya Gerstl Looks Back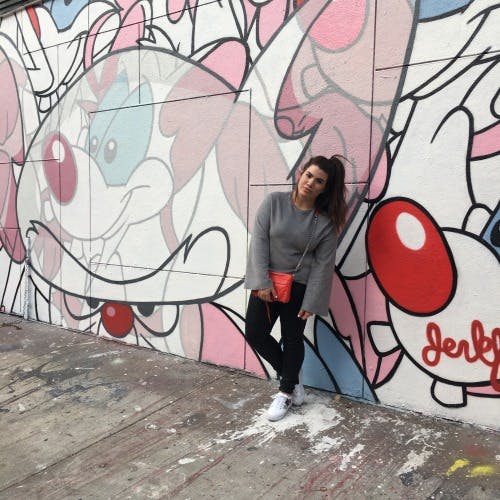 Talya Gerstl is not your typical college student. She was born in the United States but lived in Israel for many years. She even spent time as a soldier in the Israel Defense Forces before starting college.
Her experience, passion for life, and open-mindedness led us to choose Talya to lead our Saxbys cafe at the Fox School of Business at Temple University as Student Cafe Executive Officer. She ran all aspects of the cafe including team development, financial management and community leadership. Talya built an incredibly collaborative culture at her cafe, where all team members are asked for input and advice.
The result is a successfully run cafe and a woman who's poised for a great career in hospitality management after her final day as SCEO on January 2. She sat down with us to discuss her time at Saxbys and offer some advice to the next SCEO.
Overview
How are you feeling knowing that your time as SCEO is coming to an end?
I'm slowly saying goodbye to the team and definitely getting emotional.
How did being SCEO prepare you for a career in hospitality management?
This program teaches you so much about management and leadership. Saxbys gives you training, hands you the keys and says "here you go." Then I had 46 team members and managed all the ordering, invoices and vendors. I had to understand what all the numbers meant. I had to learn to use labor in the most efficient way and not just give team members hours because they want hours. It helped me determine the best decisions to make to drive the best outcomes for our cafe and our team members.
Team Development
How did you build a culture at your cafe based off your leadership style within 6 months?
Know your team and genuinely care about them. Ask them: How was your weekend? How is that class going? Make sure you're not just asking those questions to ask them. Show you genuinely care about their interests and their life. A happy worker is a productive worker. Productive workers bring more guest engagement — and happy guests will come back again and again.
What was the most rewarding aspect of developing your team?
To see them grow as leaders and watch them progress in the organization. I had the privilege of developing four team members to a team lead positions. To see the passion in their eyes made it all worth it.
What was a major obstacle you had to overcome when it came to developing team members?
There were a lot of team members who wanted to be team leads, but we only had spots for a few. Knowing they wanted to take on more responsibility was great but we couldn't accommodate everyone. I just communicated that to everyone, made sure their voices were heard and did what was best for the cafe.
You're a college student managing other college students. What's it like managing peers?
I didn't feel that just because I am a little older, I knew more or could act superior in any way. Instead, I had a very inclusive process and strived to learn from the team members, especially the ones who had been there before me. If I offered a new idea, I'd ask for feedback and try to make sure everyone is included in the process. It helped me immensely — everyday I learned something new and it helped fulfil our mission to make life better for everybody.
Community Leadership
How did you contribute to the community you served?
We worked with Philanthropi to encourage guests to contribute to Big Brothers Big Sisters. We're competing with other cafes to see who can donate the most. We're currently in third place. We want to give as much as we can because Big Brothers Big Sisters is an amazing organization. We also donated to a fundraiser for Camp Kesem, an organization supporting kids whose parents have or had cancer.
How did becoming a community leader impact your cafe?
The location of our cafe makes for a really special relationship with our guests. We're literally inside a Temple building serving students and professors everyday. We're creating relationships with the community on a daily basis and I loved serving my professors and advisors. We made the cafe a cool place to study, do homework or just hangout. That helped us keep guests coming back.
Financial Management
How did you work to manage and understand your profit/loss statements (P&L)?
My coach was a big help. She helped me learn how much to order do projections based on events like weather, exams and breaks. I also just took my time and focused on sales and labor. I made sure we met projections and didn't go over budget.
How did you keep your cafe accountable to the day-to-day responsibilities in order to manage your costs?
Because this was first fall semester that the cafe was open, we had to establish a baseline. It was a great opportunity to learn about the preferences of our guests. For example in September and into mid-October, Cold Brew was a big seller but that tapered off as the weather got colder, and people started ordering more hot drinks.
How were you able to step outside of the day-to-day management of your cafe to strategically plan for your P&L?
As a new leader in the cafe, I really wanted to be hands on and at the cafe as much as possible. But I still managed to take a step back, analyze our numbers, learn about inventory ordering and wasted product to help me balance our books.
Final Thoughts
What are your career aspirations and how did this experience prepare you for the future?
I still don't know the right path for me but I know that working with Saxbys prepared me for a career in hospitality management. It was an amazing experience. I learned about myself, learned about my leadership skills. I'm not exactly sure where my career will take me from here, but I know everything will be okay.
What advice do you have for the incoming SCEO?
You have a lot of responsibility but remember that you have an amazing team that has your back. This team will be there for you no matter what. Continue being willing to learn, and don't be afraid to put your foot down. I know John and he's going to be amazing. I can leave knowing the cafe is in good hands.