Passing the Latte: From a Backyard Blueberry Business to Running Our Saxbys La Salle University Cafe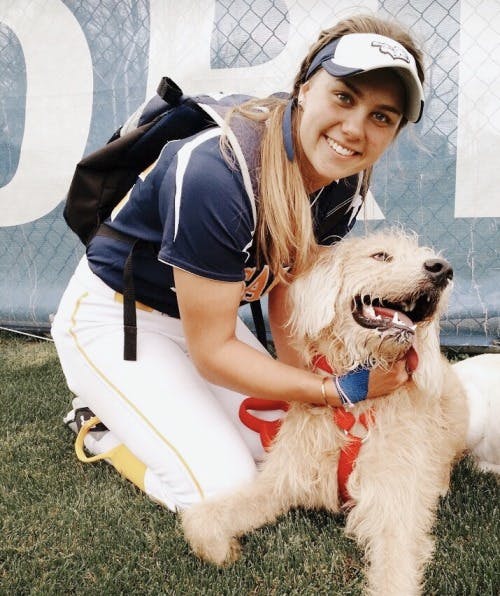 Emma Schweigert has always been entrepreneurial. As a kid growing up in Schuylkill Haven, Pa., she had the bright idea to pick blueberries from her backyard and sell them to passersby. Soon she put a sign up, got neighbors to help, and developed a truly impressive business — for a kid or an adult.
Now a 22-year-old senior at La Salle, Emma has just finished putting her entrepreneurial spirit to work as the Student Cafe Executive Officer (SCEO) at Saxbys La Salle. For six months, she ran all aspects of the cafe, from team development to community leadership to financial management. It's all part of the Saxbys Experiential Learning Program (ELP)where college students like Emma earn college credit and competitive pay while getting real-life experience.
We spoke to Emma soon after finished leading our Saxbys La Salle University cafe to learn her thoughts on the ELP program.
Overview
Describe your experience as SCEO and how it'll help prepare you for your future career.
I think it touches a lot of different categories. I feel confident that if an interviewer asked me any type of question, I have some knowledge, experience or story I can tell. Working with Saxbys gave me experience not in just one area of study but several. Marketing finance, management, sales, accounting — it touches everything.
What surprised you about this program?
Originally, I thought managing the financials would be super challenging but you can get the hang of that pretty quickly. More of the challenge is managing your team and helping to develop them. Trying to get to know everyone, making the schedule, keeping everyone happy — managing people is really tough and I didn't realize that until I started this opportunity.
What are your career aspirations?
I'd like to either find a marketing job — maybe in advertising. Or be a financial advisor. I'm applying to a bunch of different places and keeping my options open.
Team Development
How did you build a culture based off your leadership style at your cafe within six months?
In the beginning, I gave them a lot of freedom. I would get to know how they ran the cafe before I was around and let them feel comfortable. Once I established trust with them, it helped me feel empowered to change things up. As long as you explain why you're doing things, people are receptive and respectful. It's all about building trust.
What was the most rewarding aspect of developing your team?
Watching them grow into leaders themselves. Once I developed leaders amongst the team, I didn't need to direct or coach people all the time. I had other people I trusted to do that for me when I wasn't around. It made the cafe run a lot better.
What was a major obstacle you had to overcome when it came to developing a team member?
Some team members pushed back a little bit or were resistant to change, so I had to keep reminding them to keep moving forward so the entire team is on the same page. We have monthly meetings called O3s (aka one-on-ones). That was a great time to address any issues or concerns. Keeping the line of communication open is very important.
Community Leadership
Name some community events that made you particularly proud.
We had a Pay as You Wish event. Guests could order anything from the menu and pay as much or little as they wanted. Saxbys matched that number and the money was donated to the La Salle Crisis Fund helping students who are food insecure or housing insecure. We raised $5,800 which goes a long way for an organization like that.
Any others?
Throughout the semester we donated all our wasted bagels, pastries and coffee to Face to Face Germantown which provides meals for people in need. There was also a place in Kensington where we donated lots of food items throughout semester. We also partnered with Philanthropos allowing guests to round up the change in their orders. All that money got donated to an organization called Team Up Philly, an afterschool program for girls, teaching them to play sports and helping them with homework.
How did you balance the best interest of your team while also contributing to the community you served?
A lot of team members were super pumped and excited to work on this stuff so it was easy. They gave me a bunch of suggestions on different ways the cafe could get involved.
How did becoming a community leader impact your cafe?
It helps morale. It made team members enjoy coming to work because they knew we're not only serving coffee to our guests but trying to make a difference.
Financial Management
How did you achieve mastery of your P&L?
It took me a while to get the hang of it. My coaches were there to help me and walk me through it step-by-step, line-by-line. I give all credit to my coaches.
How did you keep your cafe accountable to the day-to-day responsibilities in order to manage your costs?
I would post our weekly financial reports in the back of the house so team members could see how we were doing. They were more receptive to the changes I wanted to make because they could see the reasoning behind them.
Final Thoughts
Are there any other ways the program helped you grow?
I think this internship really helped me get to know the La Salle community more. I know a lot more faculty on campus. It opened up my network more, which is really great now that I'm trying to find a job.
What advice do you have for the incoming SCEO?
Get to know your team as much as possible early so you can build trust a little bit sooner. The first month I was a little overwhelmed. I wish I just slowed down and got to know my team a little better in those times. Also, time management is huge. Make lists and set goals for yourself everyday.
How do you feel now that it's over?
I'm still working part time with Saxbys. I'm helping to train the new SCEO and working on some marketing initiatives. So it's not like I'm totally done. But it stinks leaving. I spent so much time with my team members over the past six months, it's weird not seeing them everyday but it's nice to step back and let someone else take over.